1-866-783-3372
HOURS: M-F 9 AM-5 PM CT

TRUCK ACCESSRORIES
MANUFACTURERS

Note:
You must have "cookies" enabled on your browser to successfully add items to your cart.

Please see the "FAQ" page for more information if your cart remains empty
| | |
| --- | --- |
| Are you having problems adding items to your cart? Click Here | |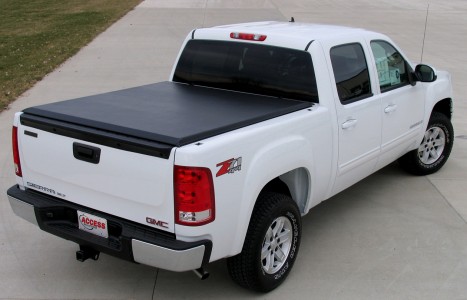 Durable, stylish, easy to operate and install, the Access Cover Roll-up Tonneau Cover delivers the
performance you need at the cost you can afford.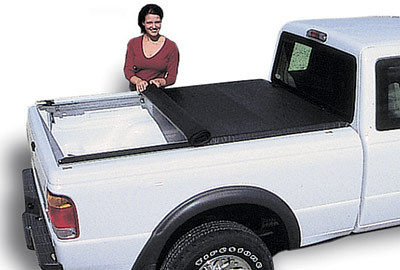 Takes only seconds to open or close!
Latching System

Easy release with the pull of a cord, the AutoLatch™ automatically locks when cover is closed.
Additional Security

Patented slide lock offers additional locked protection for your cover. Push to lock, pull to unlock. It works with a locked tailgate to give you ultimate protection.
Side Sealing

Velcro® hook & loop fastening system provides a high strength seal that runs the full length of your truck bed. Easy one person operation.
Tight Bite™ Clamps

Installs in minutes. Specifically cut "teeth" maintain a superior grip and exceptional strength.
Tension Adjustment
The XT-Dial™ features an easy grip tension adjuster which gives you perfect tension control. No tools - No hassle.
Element Seal™

Forms a tight barrier between your truck and cover, and combined with the front and rear reinforced vinyl seal - the cover is sealed on all four sides.
Premium Storage

Sometimes subtle design improvements result in major consumer advantages. Building upon our popular Quick Clips™, we have added a new cab guard design which not only secures the tonneau cover compactly, but also prevents it from rubbing against the cab.
Slantback Rear Design*

Make sure it's the original roll-up cover with our exclusive Slantback Rear Design. *The Slantback Rear Design is a Registered U.S. Trademark of Agri-Cover, Inc.
Description:

Access Cover easily installs with C-clamps
No drilling, no damage to your truck
The Access Cover is compatible with most bed accessories
Flexible at 50 degrees below zero and does not shrink
No interference with tailgate operation
Durable commercial grade fabric
Seamless cover construction, UV protected
Bars, bows and cover roll out of the way
Stores close to cab with quick release strap
No removable parts to lose or misplace
Hook and loop side seals to keep out wind
No snaps to hassle with
No dust catching tracks or hinges
No moving parts to lubricate or wear out
The Access Cover protects cargo from wind, rain and snow
Lifetime Warranty for the original purchaser

OUR EXCEPTIONAL PRICE
ON THE ACCESS COVER
IS TOO LOW TO SHOW
CALL Toll Free 1-866-783-3372
Monday - Friday 9 AM to 5 PM CT
for a Great Deal
Prices listed below are in accordance with the Manufactures
Minimum Advertised Price Policy

FREE SHIPPING AND NO HANDLING FEE

Applications

Please, Click the down arrow on the right side of the pull down menu to select your vehicle application.
How to read the Pull Down Menu
251955 /
01-C
Chevy/GMC
Pickup Full Size Heavy Duty Crew Cab (New )
Part #
Years
C = Current
Make
Models (and additional info)
The above listing is an example
Access Cover
Compact Models
Select Your Application:
PRICE: $454.75
Qty:

Access Cover
Full Size Short Bed Models
Select Your Application:
PRICE: $471.75
Qty:

Access Cover
Full Size Long Bed Models
Select Your Application:
PRICE: $481.10
Qty:

All prices are subject to change without notice..
Application charts and menus are not guaranteed for accuracy.
NOTE: Images may not reflect the products being purchased.
If appearance is a concern, please verify appearance before making a purchase.

This site was designed and is maintained by:
kb Web Design
©2015 Truck Accessorizer.com, a division of Bumgardner, Inc. All Rights Reserved
3435 Lafayette Rd. || Evansdale, Iowa 50707