TRUCK ACCESSRORIES
MANUFACTURERS
Note:
You must have "cookies" enabled on your browser to successfully add items to your cart.

Please see the "FAQ" page for more information if your cart remains empty
| | |
| --- | --- |
| Are you having problems adding items to your cart? Click Here | |
| | | |
| --- | --- | --- |
| | BAK - Bakflip G2 | |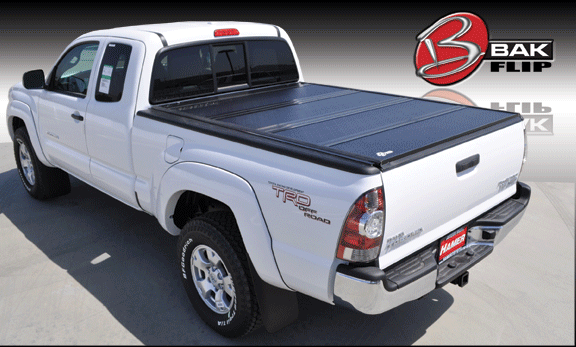 BakFlip G2 hard tonneau covers make it easy to gain access to your entire truck bed in seconds without ever having to remove your tonneau cover. It's also operable from either side of the truck for ultimate convenience. The hard tonneau cover panels are light enough for a small child to operate and lift, yet strong enough to withstand over 300 lbs of weight. Made from aircraft grade aluminum, the BakFlip hard folding tonneau cover will out perform any other hard tonneau cover and is built to outlast your truck!


BakFlip G2 drainage system
BakFlip G2 covers are equiped with a patented drainage system. All unwanted water that collects on your hinges or on to of the cover is driven into concealed drain gutters which are part of the tonneau covers rails. this water then flows to the corners of the rails and is conveniently and safely funneled out of the truck bed through pre-existing holes.
BakFlip G2 locks in full upright position.
BakFlip G2 covers allow full access to your truck bed. Since they lcok in the fully open position you are able to drive with them at full highway speeds in any incremental position. The BakFlip G2 will also protect your window from being damaged when driving with or loading large objects in the back of your truck.
BakFlip G2 works with bed extenders
BakFlip G2 covers are very innovative. Giving you complete access o your entire bed is just the beginning. The BakFlip G2 works with all sorts of truck bed accessories from racks and rails to even bed extenders. BakFlip G2 rails extend inside the bed by a mere 3/4 of an inch.
BakFlip works with bedrails
BakFlip G2 covers offer full access to stake pockets. This allows you to use accessories such as tie-downs or bed rails with your BakFlip tonneau cover.
Get your tuck BAK!
The BakFlip G2 truck bed cover allows full, unobstructed use of your entire truck bed. Use it when you want it and fold it out of the way you you don`t!
Get your whole bed BAK!
Having a BakFlip cover on your truck means never having to worry about not being able to handle the load. Get your truck BAK with a BakFlip G2 hard folding tonneau cover!
BAKFlip G2 Offers:

Intermittent locking positions.
Drive with the BakFlip G2 tonneau cover fully or partially open.
Integrated drainage system built into the rails.
No drill installation.
Removes in seconds.
Allows full access to stake pockets.
Works with 5th wheel hitches.
Works with bedliners and bed extenders.
Panels Latch automatically.
Lock tailgate for absolute security.

Specs of Bakflip G2 Tonneau Cover:


Panel exterior: Aluminum

Panel core: EPS (insulated)

Panel frames: Aircraft grade aluminum / black powder coat

Finish: Hair cell texture

Thickness: 1/2 inch (OD)

Hinge: Corrosion proof EPDM rubber

Weight rating: 300 LBS. - evenly distributed

Install tools: 1 x 15mm wrench

Maintenance: Wash normally with soap and water / 3M formula 303 UV protection.

Warranty: 1 year
OUR EXCEPTIONAL PRICE
ON THE EXTANG EXPRESS
IS TOO LOW TO SHOW
CALL Toll Free 1-866-783-3372
Monday - Friday 9 AM to 5 PM CT
for a Great Deal

Prices listed below are in accordance with the Manufactures
Minimum Advertised Price Policy

Purchase the BAK BakFlip G2 and
receive a FREE TAILGATE SEAL
a $24.95 Value

This item may ship separate from the tonneau cover via USPS.

FREE SHIPPING AND NO HANDLING FEE

Check Each Pull Down Menu For Your Specific Application.

Applications


Please, Click the down arrow on the right side of the pull down menu to select your vehicle application.

How to read the Pull Down Menu

251955 /
01-C
Chevy/GMC
Pickup Full Size Heavy Duty Crew Cab (New )
Part #
Years
C = Current
Make
Models (and additional info)

The above listing is an example

Compact Extra Short Bed Applications
Example: 2004 Dodge Dakota 5 ft. box

Select Your Application:



PRICE: $760.80

Qty: PAIR

Compact Short Bed, Compact Long Bed
& Full Size Short Bed Applications
Example: 2004 Dodge Dakota 6 ft. box & 2010 Chevy Silverado 5 ft. 8 in. box & 2010 Chevy Silverado 6 ft. 6 in. box

Select Your Application:



PRICE: $789.00

Qty: PAIR

| | | | |
| --- | --- | --- | --- |
| OTHER SHORT BED APPLICATIONS | | | |
| 26601 / 2006 - Current Honda Ridgeline Short Bed (54 inch box) | $886.64 | | |

Full Size Long Bed Applications
Example: 2010 Chevy Silverado 8 ft. box

Select Your Application:



PRICE: $860.80

Qty: PAIR
DON'T FORGET THE BAKBOX!!!!

5 important things to know before buying a truck toolbox


BakBox Advantages:
The BakBox instantly flips out from the back wall of your truck to give you a full, secure tool chest and cargo management box. It disappears just as easily when you don't need it or simply need to use your full truck bed! No more over-priced, over sized dinosaur boxes that are permanent fixtures on your truck.
You own a BakFlip tonneau cover. Now you get to own a BakBox and further improve what is already the worlds best and most versatile tonneau cover.
The BakBox is 11 inches deep and 10 inches wide and up to 65 inches long, giving you a very generous size box behind your cab.
Carry tools, groceries, clothes, books, you name it, the BakBox will be there when you need it!

•Withstands up to 400lbs of weight, allowing you to put heavy tools or objects inside of it.
•Will keep all contents safe and dry when your BakFlip tonneau cover is closed.
•Organizing shifting tray allows management of small objects that can easily be slid out of the way or shifted from side to side of your truck.Panels match the BakFlip

•Made from strong double sided aluminum or composite panels, the BakBox is built just like your BakFlip tonneau cover. It's strong and reliable!
•The BakBox lid is actually the folded up panels of the BakFlip tonneau cover. You can stand on it or use it as a bench to sit on.
•All finsihes are powder coated to OEM standards.

Visit our:




Clearance Section
Save up to 50% off Regular Price
On Specific Items in our Clearance Section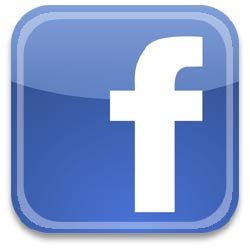 All prices are subject to change without notice..
Application charts and menus are not guaranteed for accuracy.
NOTE: Images may not reflect the products being purchased.
If appearance is a concern, please verify appearance before making a purchase.

This site was designed and is maintained by:
kb Web Design
©2013 Truck Accessorizer.com, a division of Bumgardner, Inc. All Rights Reserved
3435 Lafayette Rd. || Evansdale, Iowa 50707