1-866-783-3372
HOURS: M-F 9 AM-5 PM CT

TRUCK ACCESSRORIES
MANUFACTURERS

Note:
You must have "cookies" enabled on your browser to successfully add items to your cart.

Please see the "FAQ" page for more information if your cart remains empty
| | |
| --- | --- |
| Are you having problems adding items to your cart? Click Here | |
| | | |
| --- | --- | --- |
| | LRV - Bed Mats | |
Protection, Durability, and Value, All Rolled into One Mat!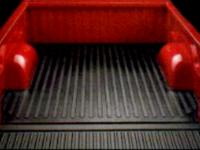 Smooth raised ribs running lengthwise permit easy loading and unloading of cargo.

The underside is a knobby design which permits aeration and drying, helping to prevent mildew and rust.

Description:

Virtually indestructible, Protecta Heavy Weight Bedmats can take the punishment of daily use in harsh environments, including most chemical spills.
Manufactured from Nyracord®, a high strength, cord enhanced rubber compound, Protecta bedmats will not rust, crack, or break-even in extreme temperatures.
The mat may easily be lifted out for cleaning or when the mat is not needed.
For an economical alternative check out the Trail FX Bed Mat. It is virtually identical to the LRV.


Applications


Please, Click the down arrow on the right side of the pull down menu to select your vehicle application.

How to read the Pull Down Menu

251955 /
01-C
Chevy/GMC
Pickup Full Size Heavy Duty Crew Cab (New )
Part #
Years
C = Current
Make
Models (and additional info)

The above listing is an example

Price:

Qty:

LRV Heavy Duty Truck Bed Mat
Compact and Full Size Short Beds

$99.95

LRV Heavy Duty Truck Bed Mat
Full Size Long Bed

$109.95

LRV Heavy Duty Truck Tailgate Mat

$59.95
* 1994 Dodge Ram applications are not a custom fit / 2009-Current Ram Boxes require trimming.
All prices are subject to change without notice..
Application charts and menus are not guaranteed for accuracy.
NOTE: Images may not reflect the products being purchased.
If appearance is a concern, please verify appearance before making a purchase.

This site was designed and is maintained by:
kb Web Design
©2015 Truck Accessorizer.com, a division of Bumgardner, Inc. All Rights Reserved
3435 Lafayette Rd. || Evansdale, Iowa 50707