You are here:

Access LoMax Professional Series
Access LoMax Professional Series


LOMAX™ just got stronger with the quality you expect and durability you require. The LOMAX™ Professional Series Tonneau Cover implements the cutting edge performance of our LOMAX™ Hard Tri-Fold Cover with its refined design for ease of operation and strategically placed weather seals. Additional extruded aluminum channels and classic diamond plate finish are featured with the professional series to deliver extra strength to an already tough truck bed cover. Whether on the clock or off, LOMAX™ Professional Series works as hard as you do.
LOMAX™ PROFESSIONAL SERIES HARD TRI-FOLD COVER
The LOMAX™ Professional Series makes a bold statement with its revolutionary, low profile design and superior protection. This diamond plate tonneau cover provides a weathertight seal, simple installation and easy one person operation. To prevent elements from entering the truck box, the LOMAX™ Folding Tonneau Cover features aluminum panels with a water shedding design and reinforced vinyl coated hinges. Additional extruded aluminum channels increase the strength of each panel, making the hard tri-fold cover stronger with minimum added weight. The vinyl coated hinges, flexible rubber seals and limited metal-on-metal contact all work together to reduce noise and vibration for a quiet ride. Committed to quality and durability, the LOMAX™ Professional Series is redefining rugged.


Diamond Plate Finish


Aluminum Construction


Tri-Fold


Clamp on Installation


Custom Fit to Your Truck Bed


Weather Resistant


Strong and Lightweight


3 Year Limited Warranty


Made in the USA



Ultra Low Profile Design
Sits less than a half inch above the truck box, the classic diamond plate finish of the LOMAX™ Professional Series Cover adds a striking appearance to your truck.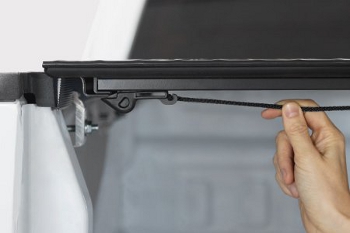 Easy to Operate
To open, pull release latch from either side and fold each panel to automatically disengage additional locks. Next, fasten with integrated storage clips. To close, unfasten storage clips and unfold panels using built-in handles. When closed, cover locks automatically at ten points, keeping cargo safe and out of sight.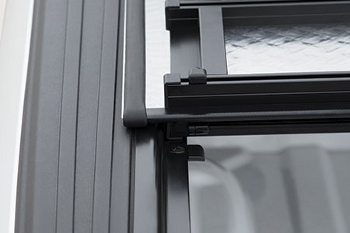 Weathertight Seal
The water shedding design and reinforced vinyl coated hinges direct water away from the pickup box, no gutters or drains needed. The aluminum tri-fold tonneau overlaps the box rails with a continuous seal down the full length of the side rails, preventing elements from entering the pickup box.





Strong Yet Lightweight
The LOMAX™ Professional Series features additional aluminum channels under each panel. Extruded aluminum channels reinforce the panels to support up to 500 pounds of evenly dispersed weight, while weighing approximately 60 pounds for a high strength-to-weight ratio.




Integrated Storage Clips
Retractable storage clips secure the truck bed cover and vinyl capped, rigid standoffs keep panels appropriately spaced in the folded position. No adjustments required.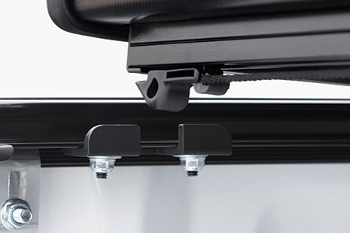 Easy Installation
Use eight TIGHT BITE™ Clamps to install rails. Engage hooks by sliding truck cover forward and lowering into retainment brackets. Unfolding panels lock tonneau cover automatically at ten points when closed. No drilling necessary.





Simple to Remove and Reinstall
With the tonneau cover open and storage clips secured, pull latch on front panel and disengage hooks by sliding cover back; lift to remove. Reinstall by sliding cover forward to engage hooks, then lower to automatically lock in retainment brackets.




Image
Description
Price

Quantity




OVERSIZE ITEM
Silver Finish

Fits:

2004-2020 Ford F-150 - 5.5 ft. Bed

(excludes 2004 Heritage Edition)

Item ID: B2010019

$883.15




OVERSIZE ITEM
Silver Finish

Fits:

2019-2020 Ford Ranger - 5 ft. Box

Item ID: B2010059

$883.15




OVERSIZE ITEM
Silver Finish

Fits:

2014-2018 Chevrolet Silverado 1500 - 5.8 ft. Bed

2014-2018 GMC Sierra 1500 - 5.8 ft. Bed

Item ID: B2020019

$883.15




OVERSIZE ITEM
Silver Finish

Fits:

2015-2020 Chevrolet Colorado - 5 ft. Bed

2015-2020 GMC Canyon - 5 ft. Bed

Item ID: B2020029

$883.15




OVERSIZE ITEM
Silver Finish

Fits:

2009-2010 Dodge Ram 1500 - 5.7 ft. Bed

2011-2018 Ram 1500 - 5.7 ft. Bed

2019 Ram 1500 - 5.7 ft. Bed (Old Body Style)

(Excludes RamBox)

Item ID: B2040019

$883.15




OVERSIZE ITEM
Silver Finish

Fits:

2004-2020 Ford F-150 - 6.5 ft. Bed

(excludes 2004 Heritage Edition)

Item ID: B2010029

$953.70




OVERSIZE ITEM
Silver Finish

Fits:

2008-2016 Ford F-250/F-350/F-450 - 6.5 ft. Bed

Item ID: B2010039

$953.70




OVERSIZE ITEM
Silver Finish

Fits:

2017-2020 Ford F-250/F-350 - 6.5 ft. Bed

Item ID: B2010049

$953.70




OVERSIZE ITEM
Silver Finish

Fits:

2014-2018 Chevrolet Silverado 1500 - 6.5 ft. Bed

2015-2018 Chevrolet Silverado 2500/3500 - 6.5 ft. Bed

2014-2018 GMC Sierra 1500 - 6.5 ft. Bed

2015-2018 GMC Sierra 2500/3500 - 6.5 ft. Bed

Item ID: B2020039

$953.70




OVERSIZE ITEM
Silver Finish

Fits:

2015-2020 Chevrolet Colorado - 6 ft. Bed

2015-2020 GMC Canyon - 6 ft. Bed

Item ID: B2020049

$953.70




OVERSIZE ITEM
Silver Finish

Fits:

2009-2010 Dodge Ram 1500 - 6.5 ft. Bed)

2011-2018 Ram 1500 - 6.5 ft. Bed

2019 Ram 1500 - 6.5 ft. Bed (Old Body Style)

2010 Dodge Ram 2500/3500 - 6.5 ft. Bed

2011-2018 Ram 2500/3500 - 6.5 ft. Bed

2019 Ram 2500/35...

Item ID: B2040029

$953.70




OVERSIZE ITEM
Silver Finish

Fits:

2019-2020 Ram 2500/3500 - 6.5 ft. Bed (New Body Style)

(Works with Single and Dual Rear Wheel)

Item ID: B2040069

$953.70
per page