You are here:

Auto Ventshade Bugflector II - 24757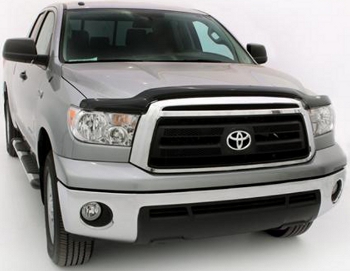 Keep your hood looking showroom new
The AVS Bugflector II™ is designed to protect and complement the contours of your vehicle's hood — keeping it looking showroom new. This custom-molded hood shield is made in the USA and precision-engineered to fit your vehicle perfectly. This hood shield's high-profile is aerodynamically efficient, and provides excellent protection as stones and other debris ricochet away from your hood, fender and windshield. The shield's durable impact-modified acrylic material makes this accessory wear-and-tear resistant as well as car-wash-safe.

Easy-to-install, no drilling or special hardware required
No-drill installation is quick and easy as the hood shield is mounted using double-sided 3M tape or mechanical fasteners (depending upon the vehicle). In order to protect the hood paint from rubbing, the set includes several rubber bumpers, which are applied to the hood during the installation. The AVS Bugflector II™ installs in 10 minutes or less and is virtually indestructible.

Wrap-around design
Provides maximum hood, fender, and windshield protection
Sleek aerodynamic appearance
High-profile
Virtually indestructible
Off-the-hood design allows for easy cleaning and waxing
Available in dark smoke or clear acrylic
Custom-molded, rugged, durable acrylic
Car wash safe
Easy no-drill installation (most applications)
Limited Lifetime Warranty
Code: 010E
There have been no reviews


Only registered customers are allowed to add review. Please sign in and add your own review!
# Videos Start if ($product_info['video1url'] != "") # Videos End