You are here:

BedRug Truck Bed Mat - BMQ17SBD
BedRug Truck Bed Mat - BMQ17SBD
For Trucks With Drop In Bed Liners

Fits:
2017-2020 Ford F-250/F-350 - 6.5 ft. Bed



No Drill Installation


Made in the U.S.A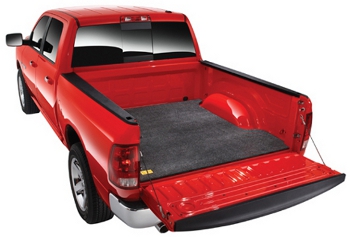 This BedRug Mat is designed expressly for trucks that are already equipped with a drop-in plastic liner, featuring a ½" thick foam backing that provides a smooth work surface without needing to drill holes into your truck bed.
Much like the BedRug, the BedRug Mat is made to fit your specific make and model, and will give you the look and feel of carpet in an ultra-tough 100% polypropylene (essentially plastic) product. It will protect your truck while standing up to whatever you can throw at it: from mulch to bleach. With its cushioned foam non-skid surface, it will keep everything in place while protecting your cargo and your knees. The BedRug Mat material is fade and UV resistant. Made of foam similar to that used in life jackets, it doesn't absorb water and will not mold or mildew. Just clean it with a hose, power washer or vacuum and your BedRug Mat is good as new.
100% Polypropylene – Ultra Tough Work Surface
Looks and Feels Like Carpet
Slip and Skid Resistant Fiber
Superior Comfort – Cushioned and Knee Friendly
Bleach, Battery Acid, Oil and Gas Wash Right Off
Designed For Exterior Use – Will Not Absorb Water
Installs in Minutes with Hook and Loop Fasteners
Tailgate Mat sold separately
There have been no reviews


Only registered customers are allowed to add review. Please sign in and add your own review!
# Videos Start if ($product_info['video1url'] != "") # Videos End