You are here:

Bushwacker Fender Flares - OE Style - 20123-02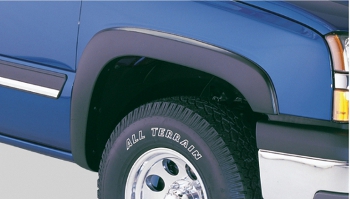 Give your truck or SUV the appearance of an upmarket trim level with Bushwacker "OE" Style® Fender Flares. They install in minutes with no drilling. And, they're designed specifically to complement your vehicle's styling, so it looks like it came from the factory that way, with a fit, finish, and level of protection that exceeds original equipment. You can leave your "OE" Style® Fender Flares with their original matte black finish for a sporty, blackout look. Or, paint them to match or accent the body color for the look of limited-edition luxury or something completely customized.
Bushwacker's "OE" Style® Fender Flares are made with Dura-Flex® 2000, our exclusive material designed for upgraded durability and flexibility. They're thick too, so they won't warp. And, they're 100% UV protected, so they won't chalk. "OE" Style® Fender Flares deliver premium-grade protection with premium-level style.
HEAVY-DUTY HARDWARE
Whether on-road or off, our hardware holds the flares securely in place

100% UV-PROTECTED OE MATTE BLACK FINISH
Easily paintable to match your vehicle

LIMITED LIFETIME WARRANTY
No-hassle, customer care from our team of experts
Adds up to 0.75 inches of tire coverage
Easy installation (no drill - most applications)
OEM matte black smooth finish is easy to paint
100% UV protected Dura-Flex® 2000 - no chalking
Limited lifetime warranty
Made in the USA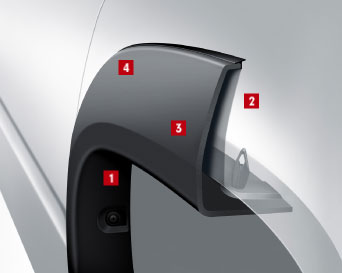 OEM quality hardware that's built to last
Load engineered to grip the side of the vehicle
Dura-Flex 2000 material lasts a lifetime
Matte black finish looks great painted or not
Code: 570S
There have been no reviews


Only registered customers are allowed to add review. Please sign in and add your own review!
# Videos Start if ($product_info['video1url'] != "") # Videos End