You are here:

Luverne Mega Steps
Luverne Mega Steps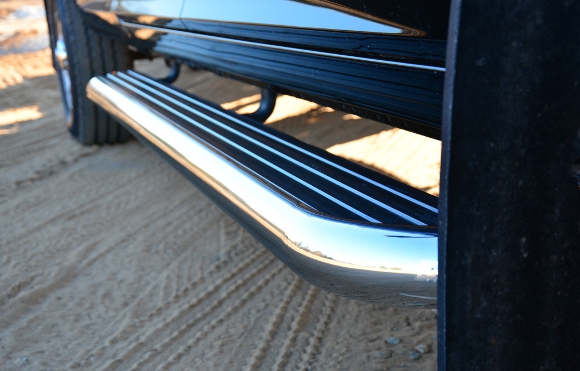 Full-length, non-skid rubber treads

LUVERNE MegaSteps® are designed to offer the best features from a variety of side accessory options. Their non-skid rubber treads cover the entire topside of the boards, giving them the functionality and convenience of a running board. However, unlike most running boards, MegaSteps® are styled after the popular look of many nerf bars and side steps. This makes them a unique and useful extension of your vehicle.

Rust-free aluminum construction

To give MegaStep® running boards an even greater advantage, they are built to outlast the elements. We construct them with a strong, lightweight aluminum base that naturally resists rust, and we finish them with a high-polish stainless steel trim. The trim is a heavy-duty, 18-gauge stainless steel to make it more than just a fancy accent, and its highly polished finish gives the running boards a bright, long-lasting shine.

Easy, adjustable, vehicle-specific application

MegaStep® running boards mount easily with vehicle-specific brackets, pre-installed fasteners and an adjustable design to perfectly fit your unique vehicle.

The running boards come with pre-installed fasteners for quicker mounting, and they attach using powder-coated steel mounting brackets for reliable strength. The boards are also uniquely designed to be adjustable inward, outward, forward or backward, giving you complete freedom to position the steps wherever you want them.

Custom fit for each application

To make installation as simple as possible, MegaStep® running boards are each designed for a custom-fit installation, using vehicle-specific mounting brackets. The brackets are covered in a durable black powder coat finish and bolt on using stainless steel fasteners for long-lasting, reliable strength.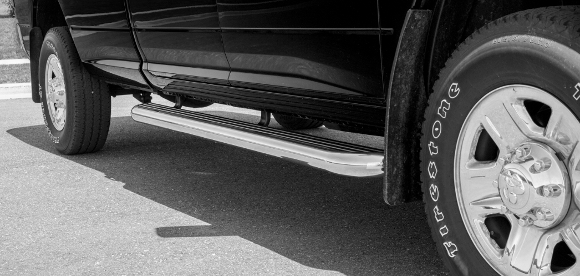 • Polished stainless steel trim

• Rubber stepping surface

• Cab Length or Wheel to Wheel Available

• Mounting brackets included

• Sold in pairs

• Free Shipping

• Made in the U.S.A.