You are here:

Luverne Side Entry Steps - Polished
Luverne Side Entry Steps - Polished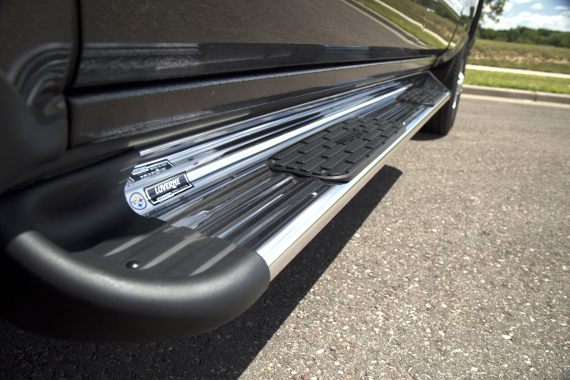 LUVERNE side entry steps feature a classic, contoured design that mounts flush to your vehicle's rocker panels and provides 7" of comfortable, non-skid stepping width. These side steps are made to stand the test of time with stainless steel construction, durable black plastic end caps and two finish options for you to choose from.

Rust-Free American Construction

To truly give LUVERNE stainless steel side entry steps what it takes to endure season after season, they've construct them from stainless steel. Not only that, but they do it right here in the USA.

Stainless steel construction eliminates the threats of rust, moisture and road salt and provides these side steps with a top-quality finish.

Custom Fit

LUVERNE side entry steps are made for a custom-fit installation, using vehicle-specific mounting brackets. The brackets feature high-strength steel construction and have a tough galvanized finish, ensuring a solid, long-lasting step. Side entry steps also mount with no drilling required on most models.

• Polished stainless steel finish

• Stainless steel construction

• Cab and Bed Boards are available

• Mounting brackets included

• Sold in pairs

• Free Shipping

• Made in the U.S.A.
per page
STYLE: Running Boards

Polished stainless steel Finish
Stainless steel construction
Box area only
Mounting brackets included - Sold in pairs

Starting at: $302.25