You are here:

Undercover Ultra Flex
Undercover Ultra Flex


THE ULTIMATE TRUCK BED SOLUTION
A hard folding truck bed cover that comes with overwhelming new features, and is topped off with an alluring matte finish. The Ultra Flex is in a category of its own. From the irresistible outward appearance, to each component beneath the cover, the Ultra Flex has been carefully crafted to be the ultimate all-purpose truck bed cover.
All-new features that accompany the Ultra Flex include a SaddleBag storage box for convenient out-of-the-way bed organization, dual rail LED bed lighting system for enhanced night vision, and a universal tailgate seal, allowing you to close the tailgate with the cover up or down. Multiple riding positions allow the user to ride with full access to their bed, and full weather protection is available if the cover is in the fully closed position. Ultra Flex is a no-drill application and can be installed and removed easily with our newly designed L-Rail's. What's more, the Ultra Flex is backed by a 5-year warranty, making it the most desirable folding cover on the market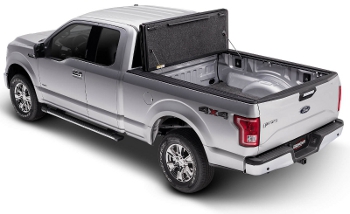 Stylish Matte Black Finish


SaddleBag Storage Provides Extra Organization (included)


Weather Resistant


5-Year Warranty


Ultra Low-Profile Design


Luminous Bed Lighting System


Automatic Latching Panels


Carpeted Underpanels Provide a Finished OEM Look


Dual Action Tailgate Seal


Made in the USA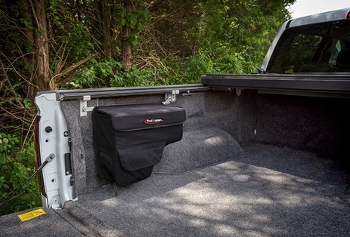 Additional Accessories Included
The SaddleBag and dual-rail bed lighting system provides added storage and illumination in your truck bed.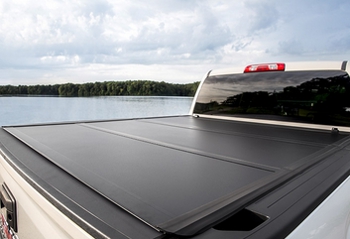 Dual Action Tailgate Seal
Shut your tailgate with ease without having to lift the last panel of the cover.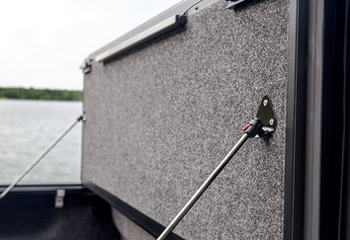 Ultra Finished Under Panel
A refined and ultra tough carpet-like finish gives the Ultra Flex an OE look and feel.




Image
Description
Price

Quantity




OVERSIZE ITEM


Fits:

2004-2012 Chevrolet Colorado - 5 ft. Bed

2004-2012 GMC Canyon - 5 ft. Bed

Item ID: UX12000

$989.00




OVERSIZE ITEM


Fits:

2004-2012 Chevrolet Colorado - 6 ft. Bed

2004-2012 GMC Canyon - 6 ft. Bed

Item ID: UX12001

$989.00




OVERSIZE ITEM


Fits:

2015-2020 Chevrolet Colorado - 5 ft. Bed

2015-2020 GMC Canyon - 5 ft. Bed

Item ID: UX12002

$989.00




OVERSIZE ITEM


Fits:

2015-2020 Chevrolet Colorado - 6 ft. Bed

2015-2020 GMC Canyon - 6 ft. Bed

Item ID: UX12003

$989.00




OVERSIZE ITEM


Fits:

2007-2013 Chevrolet Silverado 1500 - 5.8 ft. Bed

2007-2013 GMC Sierra 1500 - 5.8 ft. Bed

(Excludes 2007 Classic)

Item ID: UX12004

$989.00




OVERSIZE ITEM


Fits:

2007-2013 Chevrolet Silverado 1500 - 5.8 ft. Bed

2007-2013 GMC Sierra 1500 - 5.8 ft. Bed

(Excludes 2007 Classic)

Item ID: UX12005

$989.00




OVERSIZE ITEM


Fits:

2007-2013 Chevrolet Silverado 1500 - 6.5 ft. Bed

2007-2014 Chevrolet Silverado 2500/3500 - 6.5 ft. Bed

2007-2013 GMC Sierra 1500 - 6.5 ft. Bed

2007-2014 GMC Sierra 2500/3500 - 6.5 ft. Bed

(Excludes 2007 Classic)

Item ID: UX12007

$989.00




OVERSIZE ITEM


Fits:

2007-2013 Chevrolet Silverado 1500 - 6.5 ft. Bed

2007-2014 Chevrolet Silverado 2500/3500 - 6.5 ft. Bed

2007-2013 GMC Sierra 1500 - 6.5 ft. Bed

2007-2014 GMC Sierra 2500/3500 - 6.5 ft. Bed

(Excludes 2007 Classic)

Item ID: UX12008

$989.00




OVERSIZE ITEM


Fits:

2014-2018 Chevrolet Silverado 1500 - 5.8 ft. Bed

2014-2018 GMC Sierra 1500 - 5.8 ft. Bed

Item ID: UX12018

$989.00




OVERSIZE ITEM


Fits:

2014-2018 Chevrolet Silverado 1500 - 6.5 ft. Bed

2015-2018 Chevrolet Silverado 2500/3500 - 6.5 ft. Bed

2014-2018 GMC Sierra 1500 - 6.5 ft. Bed

2015-2018 GMC Sierra 2500/3500 - 6.5 ft. Bed

Item ID: UX12019

$989.00




OVERSIZE ITEM


Fits:

2019-2020 Chevrolet Silverado 1500 - 5.8 ft. Bed

2019-2020 GMC Sierra 1500 - 5.8 ft. Bed

Item ID: UX12020

$989.00




OVERSIZE ITEM


Fits:

2019-2020 Chevrolet Silverado 1500 - 6.5 ft. Bed

2019-2020 GMC Sierra 1500 - 6.5 ft. Bed

Item ID: UX12021

$989.00




OVERSIZE ITEM


Fits:

2019-2020 Chevrolet Silverado 1500 - 5.8 ft. Bed

2019-2020 GMC Sierra 1500 - 5.8 ft. Bed

Item ID: UX12022

$989.00




OVERSIZE ITEM


Fits:

2019-2020 Chevrolet Silverado 1500 - 6.5 ft. Bed

2019-2020 GMC Sierra 1500 - 6.5 ft. Bed

Item ID: UX12023

$989.00




OVERSIZE ITEM


Fits:

2020-2021 Chevrolet Silverado 2500 HD - Short Bed (82.2" Box)

2020-2021 Chevrolet Silverado 3500 HD - Short Bed (82.2" Box)

2020-2021 GMC Sierra 2500 HD - Short Bed (82.2" Box)

2020-2021 GMC Sierra 2500 HD - Short Bed (82...

Item ID: UX12024

$989.00




OVERSIZE ITEM


Fits:

2004-2014 Ford F-150 - 5.5 ft. Bed

2006-2009 Lincoln Mark LT - 5.5 ft. Bed

(Excludes 2004 Heritage Edition)

Item ID: UX22002

$989.00




OVERSIZE ITEM


Fits:

2004-2014 Ford F-150 - 6.5 ft. Bed

2006-2009 Lincoln Mark LT - 6.5 ft. Bed

(Excludes 2004 Heritage Edition)

(Excludes Flareside)

Item ID: UX22004

$989.00




OVERSIZE ITEM


Fits:

2008-2016 Ford F-250/F-350/F-450 - 6.5 ft. Bed

Item ID: UX22010

$989.00




Item ID: UX22019

$989.00




Item ID: UX22020

$989.00




Item ID: UX22021

$989.00




OVERSIZE ITEM


Fits:

2002-2010 Dodge Ram 1500 - 6.5 ft. Bed

2011-2018 Ram 1500 - 6.5 ft. Bed

2019 Ram 1500 - 6.5 ft. Bed (Old Body Style)

2003-2010 Dodge Ram 2500/3500 - 6.5 ft. Bed

2011-2018 Ram 2500/3500 - 6.5 ft. Bed

2019 Ram 250...

Item ID: UX32004

$989.00




OVERSIZE ITEM


Fits:

2009-2010 Dodge Ram 1500 - 5.7 ft. Bed

2011-2018 Ram 1500 - 5.7 ft. Bed

2019 Ram 1500 - 5.7 ft. Bed (Old Body Style)

(Excludes RamBox)

Item ID: UX32006

$989.00




Item ID: UX32008

$989.00




Item ID: UX32009

$989.00
per page