Westin Ultimate Bull Bar - Chrome Plated Stainless Steel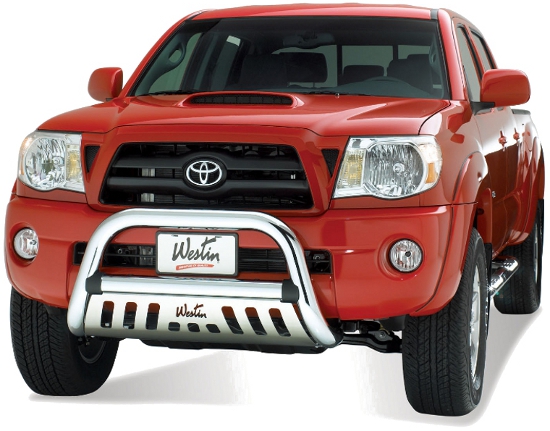 The Westin Ultimate Bull Bar is a front-end light bar available for trucks and SUVs. Product application is vehicle specific and comes complete with mounting kit. The Westin Ultimate Bull Bar features black molded caps on the crossbar welds for a finished and clean look. It features a stainless steel skid plate with a laser-cut Westin signature logo on it.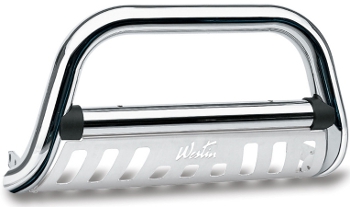 Fit up to 5.75" diameter auxillary lights


Molded weld caps for a finished look


Chrome plated 304 stainless steel


Brushed stainless steel skid plate with laser cut Westin logo


No drill installation (most applications)


Vehicle specific mount kit included


Five Year Limited Warranty


*Your state may require you to display a front license plate. If required, order License Re-locator P/N# 32-0055. For use with Ultimate and E-Series Bull Bars.
Image
Description
Price

Quantity




Fits:
2015-2022 Chevrolet Colorado
2015-2022 GMC Canyon


Item ID: 32-3640

$389.95




Fits:
2019-2021 Ram 1500 (New Body Style)


Item ID: 32-3970

$389.95




Fits:
1999-2004 Ford F-250/F-350/F-450 Super Duty
2000-2004 Ford Excursion


Item ID: 32-0220

$409.95




Fits:
2001-2006 Chevrolet Silverado 2500/3500
2007 Chevrolet Silverado 2500/3500 (Classic)
2000-2006 Chevrolet Suburban 2500
2002-2006 Chevrolet Avalanche 2500 (without cladding)
1999-2006 GMC Sierra 2500/3500
2007 GM...

Item ID: 32-1240

$409.95




Fits:
2000-2006 Toyota Tundra


Item ID: 32-1360

$409.95




Fits:
2004-2008 Ford F-150
(Excludes 2004 Heritage Edition)


Item ID: 32-1390

$409.95




Fits:
2004-2015 Nissan Titan
2005-2015 Nissan Armada


Item ID: 32-1480

$409.95




Fits:
2005-2015 Toyota Tacoma

Item ID: 32-1600

$409.95




Fits:
2005-2017 Nissan Frontier

Item ID: 32-1690

$409.95




Fits:
2005-2015 Nissan Xterra

Item ID: 32-1690-

$409.95




Fits:
2009-2010 Dodge Ram 1500
2011-2018 Ram 1500
2019 Ram 1500 (Legacy/Old Body Style)


Item ID: 32-1960

$409.95




Fits:
2007-2021 Toyota Tundra
2007-2019 Toyota Sequoia


Item ID: 32-2250

$409.95




Fits:
2011-2016 Ford F-250/F-350/F-450


Item ID: 32-2370

$409.95




Fits:
2009-2014 Ford F-150


Item ID: 32-2400

$409.95




Fits:
2015-2022 Ford F-150


Item ID: 32-2450

$409.95




Fits:
2010 Dodge Ram 2500/3500
2011-2018 Ram 2500/3500
2019 Ram 2500/3500 (Old Body Style)


Item ID: 32-3550

$409.95




Fits:
2015-2019 Chevrolet Silverado 2500/3500
2015-2019 GMC Sierra 2500/3500


Item ID: 32-3630

$409.95




Fits:
2016-2018 Chevrolet Silverado 1500
2019 Chevrolet Silverado 1500 (Legacy/Old Body Style)


Item ID: 32-3870

$409.95




Fits:
2017-2022 Ford F-250/F-3500
2017-2021 Ford F-450/F-550


Item ID: 32-3900

$409.95




(excludes Mega Cab)

Fits:
2019-2021 Chevrolet Silverado 1500
2019-2021 GMC Sierra 1500


Item ID: 32-3950

$409.95
per page