The ultimate quality choice when nothing but premium metal components will do. Exclusive and patented all climate tarp design that's fully adjustable 4 ways for easy use in cold weather. New SpringLock™ bows easy to install and they'll never fall off. No drilling, No damage! Fast and easy access to truck bed and cargo by simply dropping tailgate or by rolling up the tarp. One handed tail rail quick release with the patented Clicklock™ Corner System. SnapStopper™ keeps snaps on the rail when tarp is rolled up for bulk hauling. The TuffSnaps™ stainless steel and brass snaps will not break. Field tested and proven. Easy, fast installation within minutes. No tools needed. Famous Extang engineering, quality workmanship and excellent customer service. Industry's best warranties.
ClickLock™ Corner System. Extang's Patented ClickLock Corners Feature Spring Loaded Stainless Steel Ball Bearings. Allows For Instant, Easy, Secure, And Release Of Tail Rail With No Tools


Tarps Designed For Strength And Good Looks. Corners Don't Buckle Up Due To Parachute Grade Nylon Corner Reinforcements


Snaps And Corners Are Backed With Thick Polymer Forcing The Corners And Edges To Lie Smooth And Look Good In Any Weather. The Thick Polymer Edging Also Keeps Your Snaps From Ripping Out!


Extang's SnapStopper™ Is A Small Detail That Means A Lot. Roll Up Your Tarp, Carry A Large Load And The Snaps Will Stay On The Rail


Quicker Installation. TuffKlamps™ Simply Drop Into The Rail Channels. Easy On. Clamps Tight


Limited Lifetime Warranty On Frame And Limited 10 Year Warranty On Tarp

One finger removal
An easy pull disengages your tail rail for bulk hauling. To resecure: slide and click, your tail rail is locked in place. You'll be impressed with CLICKLOCK's high quality spring loaded stainless steel ball bearings that click into place with such a satisfying feel.

Tarps designed for
strength & good looks
Corners don't buckle up due to parachute grade nylon corner reinforcements. Snaps & corners are backed with thick polymer forcing the corners and edges to lie smooth and look

good in any weather. The thick polymer edging also keeps your snaps from ripping out!
Quicker installation


TUFFKLAMPS™ simply drop into the rail channels (works well with bed liners). Easy on. Clamps tight.

Extang's SNAPSTOPPER™ is a small detail that means a lot. Roll up your tarp, carry a large load and the snaps will stay on the rail


Snaps are your tonno's most important part


Fiberglass reinforced nylon formula makes the BlackMax's snaps strong and durable. Tested and proven under intense usage for years in the lab and field. Extang's patented "MAXSNAPS™" will not break.

Bow height adjustment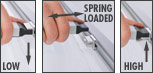 Extang's Monster Bows™ quickly spring on and off with no tools. It's fast and easily done with one hand. The TUFFKLAMPs™ allow two bow heights: HIGH for maximum water shedding in harsh weather, and for improved gas mileage. LOW for sporty good looks and cold weather tonno attachment.
Extang makes the ONLY tonnos that work well in cold climates

• Stud low for tight fit in hot weather
• Slide off, flip over, then slide on again
• Stud high for looser fit in cold weather

3 QUICK, EASY STEPS
FOR BULK HAULING: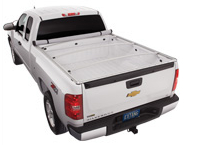 1. Roll up & secure your tarp
Your tarp can be quickly rolled up and secured with strong convenient straps allowing you to haul large items.
2. Click out tail rail
New "LeverLock™" corners allow you to attach or remove your tail rail instantly. No tools or screws required. "LeverLock™" corner attachments firmly hold your tail rail in place. Remove your Monster Bows™
3. Extang's MONSTERBOWS™
have been designed tall and wide

making them super strong and are easily removed with one hand.

Code: 030E
Average customer rating
:
Only registered customers are allowed to add review. Please sign in and add your own review!
1 Most useful customer reviews (see all reviews):
per page
Only registered customers are allowed to add review. Please sign in and add your own review!
# Videos Start if ($product_info['video1url'] != "") # Videos End