You are here:

Extang Encore
Extang Encore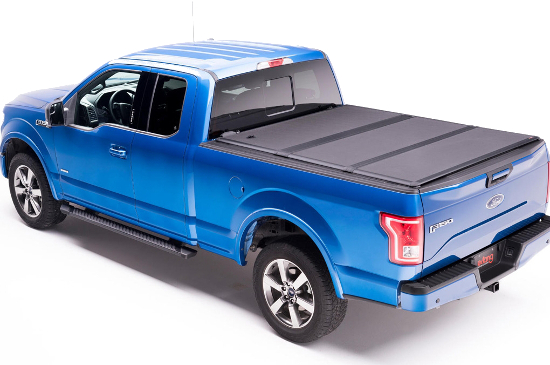 All New OEM Matte Finish
Our new OEM matte finish gives the EnCore a high end, straight from the factory look. This matte finish matches the bed rail caps' plastic grain creating a cohesive look between the truck and the truck bed cover.
Simple
Our low profile, hard panel tri-fold offers easy access from both the front and rear of your truck bed. The EnCore cover is self-positioning for pain free installation and self-latching for extra security. Engineered rear latches lock the cover at the tailgate, and supplemental tethers secure your cover to the side rails. Wide opening front panel provides access to front half of bed and can be locked using your ignition key featuring BOLT®, one-key lock technology (most models).
Superior & Exclusive Technology
Extang's exclusively designed panels feature EnduraShield skinned panels paired with a polypropylene core for a superior alternative to the traditional aluminum panel. The EnduraShield skin is constructed from a automotive grade polymer that resists denting, scratches, and UV induced fading. These panels have been rigorously tested to meet and exceed the strictest of OEM testing. EnCore is engineered ExtangTuff to resist dents and scratches, and features the only 1-inch aluminum frame with a powder coated finish and rubber corners. EnCore's ALL NEW flexible hinge system is ultra-strong, water resistant and provides superior performance. Encore's TPO skins and matte finish is cooler to the touch and will not fade in the hot sun.


FRP (Fiberglass Reinforced Plastic) Panels


Sleek, Low-Profile Look


More Versatility


User Friendly Removal


Clamp on, No-Drill Installation


Multi-Purpose Rails And Hinge


Made in the USA


3 Year Warranty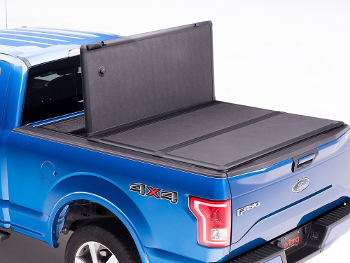 More Versatility
The first 3-panel hard folding cover that offers access to the truck bed from openings at both the front cab and the rear panel. The wide opening front panel allows access to place or retrieve large cargo.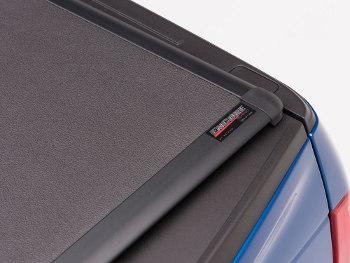 Extang Engineered
Extang's exclusive, lightweight, 1-inch thick EnduraShield panel has a polypropylene core and provides the ultimate in dent and scratch resistance. It is cool to touch on hot days and will not fade in the sun!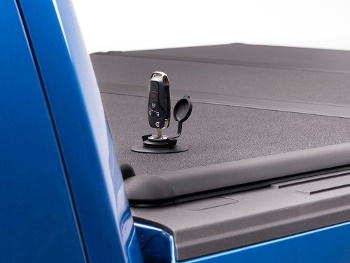 Security
Featuring BOLT® breakthrough one-key lock technology. Your truck's ignition key provides ultimate protection by locking the front panel and tailgate. Honda Ridgeline, Nissan Titan, and Toyota Tacoma TRD models include 2 keys for front panel.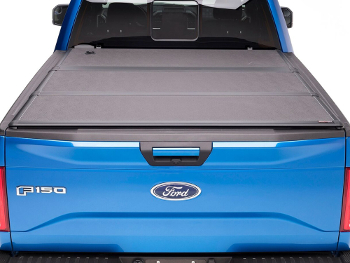 Low Profile Design
The cover mounts inside the bed rails, allowing the 1 inch thick panels to sit only 1/2 inch above the bed for a sleek look.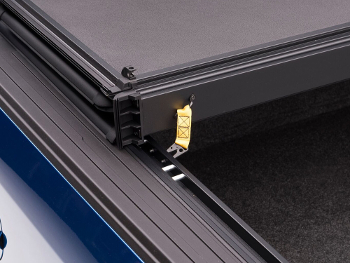 Easy to Install and Remove
Remove the cover in seconds. The Encore's self latching design quickly attaches and detaches the cover from the rails easily.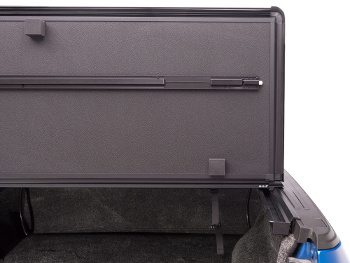 Easy Shut Latches
The rear panel automatically locks at the tailgate. Simply close the cover and the latches automatically lock in place.


Image
Description
Price

Quantity




OVERSIZE ITEM


Fits:

2015-2020 Chevrolet Colorado - 6 ft. Bed

2015-2020 GMC Canyon - 6 ft. Bed

Item ID: 62355-EX

$939.00




Item ID: 62421-EX

$939.00




Item ID: 62422-EX

$939.00




OVERSIZE ITEM


Fits:

2009-2010 Dodge Ram 1500 - 5.7 ft. Bed

2011-2018 Ram 1500 - 5.7 ft. Bed

2019 Ram 1500 - 5.7 ft. Bed (Old Body Style)

(Excludes RamBox)

Item ID: 62425-EX

$939.00




OVERSIZE ITEM


Fits:

2009-2010 Dodge Ram 1500 - 6.5 ft. Bed)

2011-2018 Ram 1500 - 6.5 ft. Bed

2019 Ram 1500 - 6.5 ft. Bed (Old Body Style)

2010 Dodge Ram 2500/3500 - 6.5 ft. Bed

2011-2018 Ram 2500/3500 - 6.5 ft. Bed

2019 Ram 2500/35...

Item ID: 62430-EX

$939.00




OVERSIZE ITEM


Fits:

2014-2018 Chevrolet Silverado 1500 - 5.8 ft. Bed

2014-2018 GMC Sierra 1500 - 5.8 ft. Bed

Item ID: 62445-EX

$939.00




OVERSIZE ITEM


Fits:

2014-2018 Chevrolet Silverado 1500 - 6.5 ft. Bed

2015-2018 Chevrolet Silverado 2500/3500 - 6.5 ft. Bed

2014-2018 GMC Sierra 1500 - 6.5 ft. Bed

2015-2018 GMC Sierra 2500/3500 - 6.5 ft. Bed

Item ID: 62450-EX

$939.00




OVERSIZE ITEM


Fits:

2019-2020 Chevrolet Silverado 1500 - 5.8 ft. Bed

2019-2020 GMC Sierra 1500 - 5.8 ft. Bed

Item ID: 62456-EX

$939.00




OVERSIZE ITEM


Fits:

2019-2020 Chevrolet Silverado 1500 - 6.5 ft. Bed

2019-2020 GMC Sierra 1500 - 6.5 ft. Bed

Item ID: 62457-EX

$939.00




Item ID: 62475-EX

$939.00




Item ID: 62480-EX

$939.00




Item ID: 62486-EX

$939.00




OVERSIZE ITEM


Fits:

2004-2006 Chevrolet Silverado 1500 - 5.8 ft. Bed

2007 Chevrolet Silverado (Classic) 1500 - 5.8 ft. Bed

2004-2006 GMC Sierra 1500 - 5.8 ft. Bed

2007 GMC Sierra 1500 (Classic) - 5.8 ft. Bed

Item ID: 62625-EX

$939.00




Item ID: 62630-EX

$939.00




OVERSIZE ITEM


Fits:

2007-2013 Chevrolet Silverado 1500 - 5.8 ft. Bed

2007-2013 GMC Sierra 1500 - 5.8 ft. Bed

(Excludes 2007 Classic)

Item ID: 62645-EX

$939.00




OVERSIZE ITEM


Fits:

2007-2013 Chevrolet Silverado 1500 - 5.8 ft. Bed

2007-2013 GMC Sierra 1500 - 5.8 ft. Bed

(Excludes 2007 Classic)

Item ID: 62647-EX

$939.00




OVERSIZE ITEM


Fits:

2007-2013 Chevrolet Silverado 1500 - 6.5 ft. Bed

2007-2014 Chevrolet Silverado 2500/3500 - 6.5 ft. Bed

2007-2013 GMC Sierra 1500 - 6.5 ft. Bed

2007-2014 GMC Sierra 2500/3500 - 6.5 ft. Bed

(Excludes 2007 Classic)

Item ID: 62650-EX

$939.00




OVERSIZE ITEM


Fits:

2007-2013 Chevrolet Silverado 1500 - 6.5 ft. Bed

2007-2014 Chevrolet Silverado 2500/3500 - 6.5 ft. Bed

2007-2013 GMC Sierra 1500 - 6.5 ft. Bed

2007-2014 GMC Sierra 2500/3500 - 6.5 ft. Bed

(Excludes 2007 Classic)

Item ID: 62652-EX

$939.00




Without Optional Bedside Storage Box
OVERSIZE ITEM


Fits:

2020-2021 Chevrolet Silverado 2500 HD - Short Bed (82.2" Box)

2020-2021 Chevrolet Silverado 3500 HD - Short Bed (82.2" Box)

2020-2021 GMC Sierra 2500 HD - Short Bed (82.2" Box)

2020-2021 GMC Sierra 2500 HD - Short Bed (82...

Item ID: 62653-EX

$939.00




OVERSIZE ITEM


Fits:

1999-2016 Ford F-250/F-350/F-450 - 6.5 ft. Bed

Item ID: 62720-EX

$939.00




OVERSIZE ITEM


Fits:

2002-2008 Dodge Ram 1500 - 6.5 ft. Bed

2003-2009 Dodge Ram 2500/3500 - 6.5 ft. Bed

Item ID: 62770-EX

$939.00




OVERSIZE ITEM


Fits:

2004-2014 Ford F-150 - 5.5 ft. Bed

2006-2009 Lincoln Mark LT - 5.5 ft. Bed

(Excludes 2004 Heritage Edition)

Item ID: 62780-EX

$939.00




OVERSIZE ITEM


Fits:

2004-2014 Ford F-150 - 6.5 ft. Bed

2006-2009 Lincoln Mark LT - 6.5 ft. Bed

(Excludes 2004 Heritage Edition)

(Excludes Flareside)

Item ID: 62790-EX

$939.00




Item ID: 62800-EX

$939.00




Item ID: 62830-EX

$939.00
per page