You are here:

Extang Solid Fold 2.0 - ToolBox
Extang Solid Fold 2.0 - ToolBox



TOOLBOX TONNEAU COVER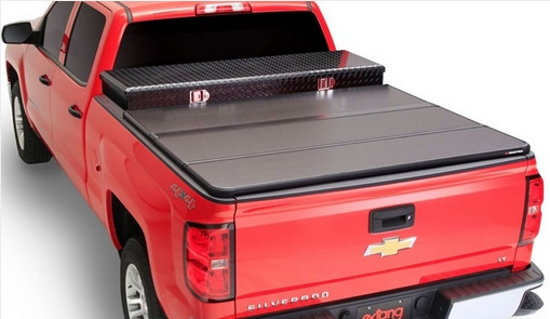 The Solid Fold 2.0 Toolbox Tonneau by Extang provides the best in weather and UV protection while still allowing for instant cargo access. It is designed for full size trucks with 6 1/2' and 8' bed lengths and will match up to most 18-20" standard toolboxes (not included).
The Solid Fold 2.0 Toolbox Tonneau comes equipped with a mountain rail that permits quick installation along with a watertight seal up against the toolbox. It is made of heavy-duty automotive grade EnduraShield skins with a Polypropylene core for the ultimate in dent and UV resistance. The lightweight design and easy to use clamping system makes this tonneau cover our most versatile cover yet.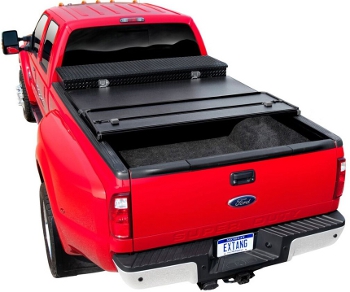 Works with existing Toolboxes (toolbox not included)


FRP (Fiberglass Reinforced Plastic) Panels


More Versatility


User Friendly Removal


Clamp on, No-Drill Installation


Made in the USA


3 Year Warranty


Tri-Fold Clamps
Extang's tri-fold toolbox applications include a T-Handle clamp to secure the L-Channel for quick cover removal and reinstall.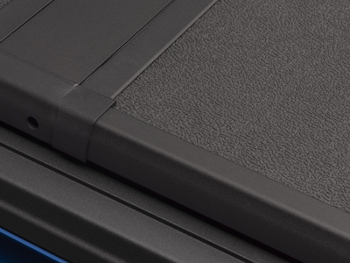 OEM Matte Finish
The Solid Fold 2.0 features a black, matte finish and a textured, powder coated aluminum frames and hinges for extra wear resistance. It looks like it was designed to be a part of your truck!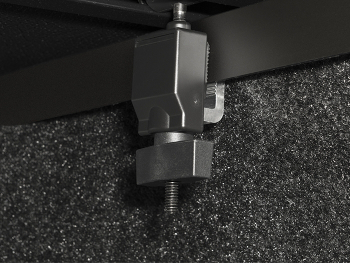 Jaw-Grip Clamps
Our new cab clamps lead the industry by attaching directly to your bed flanges without damage or alteration to your bed caps. Our exclusive patented clamp is the strongest in the industry!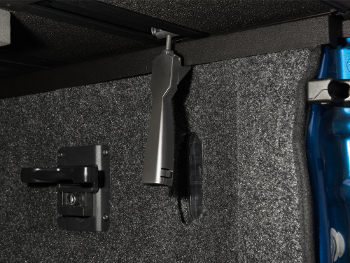 EZ-Lock Clamps
The re-engineered, patented EZ-Lock Clamp requires minimal physical effort to operate and self-locks in position when attached to the bed flange for added security.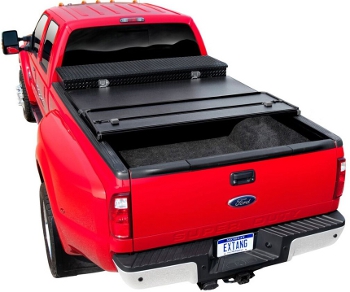 Fits with Existing Toolbox
Toolbox tonneaus fit most standard 18-20" size toolboxes. The Classic Platinum can be custom cut to accomodate most non-standard toolboxes (toolbox not included).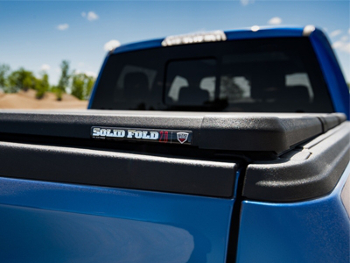 Security
Extang's clamps can only be accessed by lowering the tailgate. The Solid Fold 2.0 creates a secure layer of protection for your belongings/cargo.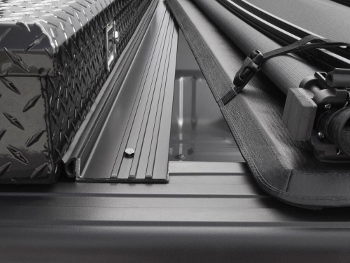 L-Channel: Perfect Fit
Patented L-Channel design and adjustable sealing system easily bridges the toolbox-to-tonneau gap for a perfect fit and rain drainage.


Image
Description
Price

Quantity




OVERSIZE ITEM


Fits:

2015-2018 Chevrolet Colorado - 6 ft. Bed

2015-2018 GMC Canyon - 6 ft. Bed

Item ID: 84355-EX

$949.00




OVERSIZE ITEM


Fits:

2009-2014 Ford F-150 - 6.5 ft. Bed

(Excludes Flareside)

Item ID: 84410-EX

$949.00




Item ID: 84415-EX

$949.00




OVERSIZE ITEM


Fits:

2009-2010 Dodge Ram 1500 - 6.5 ft. Bed)

2011-2018 Ram 1500 - 6.5 ft. Bed

2019 Ram 1500 - 6.5 ft. Bed (Old Body Style)

2010 Dodge Ram 2500/3500 - 6.5 ft. Bed

2011-2018 Ram 2500/3500 - 6.5 ft. Bed

2019 Ram 2500/35...

Item ID: 84430-EX

$949.00




OVERSIZE ITEM


Fits:

2009-2010 Dodge Ram 1500 - 8 ft. Bed

2011-2018 Ram 1500 - 8 ft. Bed

2019 Ram 1500 - 8 ft. Bed (Old Body Style)

2010 Dodge Ram 2500/3500 - 8 ft. Bed

2011-2018 Ram 2500/3500 - 8 ft. Bed

2019 Ram 2500/3500 - 8 ft. ...

Item ID: 84435-EX

$949.00




OVERSIZE ITEM


Fits:

2014-2018 Chevrolet Silverado 1500 - 6.5 ft. Bed

2015-2018 Chevrolet Silverado 2500/3500 - 6.5 ft. Bed

2014-2018 GMC Sierra 1500 - 6.5 ft. Bed

2015-2018 GMC Sierra 2500/3500 - 6.5 ft. Bed

Item ID: 84450-EX

$949.00




OVERSIZE ITEM


Fits:

2014-2018 Chevrolet Silverado 1500 - 8 ft. Bed

2015-2018 Chevrolet Silverado 2500/3500 - 8 ft. Bed

2014-2018 GMC Sierra 1500 - 8 ft. Bed

2015-2018 GMC Sierra 2500/3500 - 8 ft. Bed

Item ID: 84455-EX

$949.00




Item ID: 84470-EX

$949.00




Item ID: 84480-EX

$949.00




Item ID: 84485-EX

$949.00




Item ID: 84486-EX

$949.00




OVERSIZE ITEM


Fits:

2017-2020 Ford F-250/F-350 - 8 ft. Bed

(Includes Dually)

Item ID: 84488-EX

$949.00




Without Optional Bedside Storage Box
OVERSIZE ITEM


Fits:

2020-2021 Chevrolet Silverado 2500 HD - Short Bed (82.2" Box)

2020-2021 Chevrolet Silverado 3500 HD - Short Bed (82.2" Box)

2020-2021 GMC Sierra 2500 HD - Short Bed (82.2" Box)

2020-2021 GMC Sierra 2500 HD - Short Bed (82...

Item ID: 84653-EX

$949.00




OVERSIZE ITEM


Fits:

2007-2013 Chevrolet Silverado 1500 - 8 ft. Bed

2007-2014 Chevrolet Silverado 2500/3500 - 8 ft. Bed

2007-2013 GMC Sierra 1500 - 8 ft. Bed

2007-2014 GMC Sierra 2500/3500 - 8 ft. Bed

(Excludes 2007 Classic)

Item ID: 84655-EX

$949.00




OVERSIZE ITEM


Fits:

1999-2016 Ford F-250/F-350/F-450 - 6.5 ft. Bed

Item ID: 84720-EX

$949.00




Item ID: 84725-EX

$949.00




OVERSIZE ITEM


Fits:

1999-2006 Chevrolet Silverado 1500 - 6.5 ft. Bed

2001-2006 Chevrolet Silverado 2500/3500 - 6.5 ft. Bed

2007 Chevrolet Silverado 1500/2500/3500 (Classic) - 6.5 ft. Bed

1999-2006 GMC Sierra 1500 - 6.5 ft. Bed

2001-2006...

Item ID: 84940-EX

$949.00




OVERSIZE ITEM


Fits:

2019-2020 Chevrolet Silverado 1500 - 5.8 ft. Bed

2019-2020 GMC Sierra 1500 - 5.8 ft. Bed

Item ID: 84456-EX

$949.00




OVERSIZE ITEM


Fits:

2019-2020 Chevrolet Silverado 1500 - 6.5 ft. Bed

2019-2020 GMC Sierra 1500 - 6.5 ft. Bed

Item ID: 84457-EX

$949.00
per page