You are here:

Extang Trifecta 2.0 - Toolbox
Extang Trifecta 2.0 - Toolbox



TOOLBOX TONNEAU COVER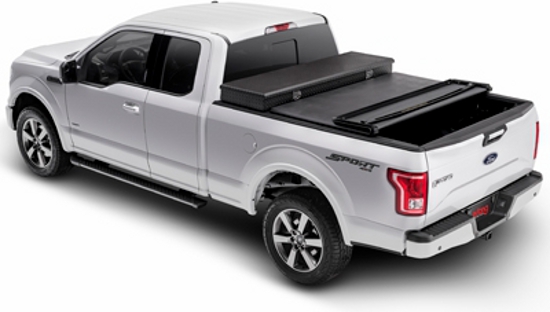 The Best-Selling Soft Tri-Fold Cover

For Use with ToolBox


Extang's Trifecta 2.0 Tri-Fold Tonneau has an easy to use folding design, smooth sleek looks and unmatched durability. It is designed for full size trucks with 6 ½' and 8' bed lengths and will match up to most 18-20" standard toolboxes.
This user-friendly soft tonneau requires no assembly, no drilling, and installation is as easy as positioning the cover on your truck, tightening the clamps and you're ready to go!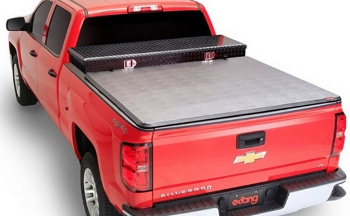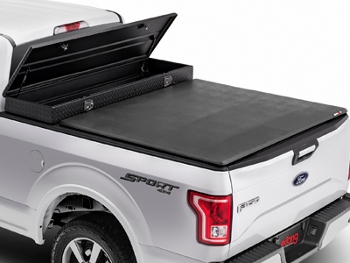 Fits with Existing Toolbox
Toolbox tonneaus fit most standard 18-20" size toolboxes (toolbox not included).




Tri-Fold Clamps
Extang's tri-fold toolbox applications include a T-Handle clamp to secure the L-Channel for quick cover removal and reinstall.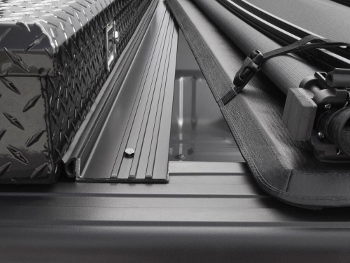 L-Channel: Perfect Fit
Patented L-Channel design and adjustable sealing system easily bridges the toolbox-to-tonneau gap for a perfect fit and rain drainage.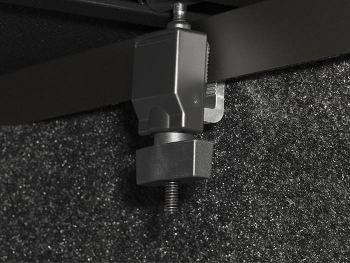 Jaw-Grip Clamps
Our new cab clamps lead the industry by attaching directly to your bed flanges without damage or alteration to your bed caps. Our exclusive patented clamp is the strongest in the industry!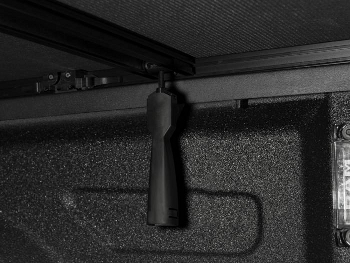 Easy-Lock Clamps
The re-engineered, patented EZ-Lock Clamp requires minimal physical effort to operate and self-locks in position when attached to the bed flange for added security.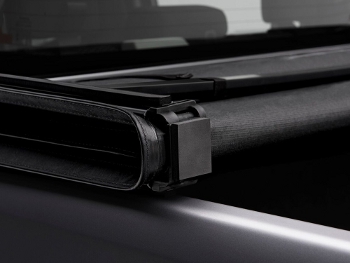 Maxhinges: Built to Last
Ultra-strong, rugged, double pivot design. MaxHinges are made of durable, glass-filled nylon and feature protective padding.




Image
Description
Price

Quantity




Fits:
2015-2020 Chevrolet Colorado - 6 ft. Bed
2015-2020 GMC Canyon - 6 ft. Bed


Item ID: 93355-EX

$449.00




Without Utility Track System

Fits:
2009-2014 Ford F-150 - 6.5 ft. Bed
(Excludes Flareside)


Item ID: 93410-EX

$449.00




Fits:
2009-2014 Ford F-150 - 8 ft. Bed


Item ID: 93415-EX

$449.00




Without RamBox

Fits:
2009-2010 Dodge Ram 1500 - 6.5 ft. Bed)
2011-2018 Ram 1500 - 6.5 ft. Bed
2019 Ram 1500 - 6.5 ft. Bed (Old Body Style)
2010 Dodge Ram 2500/3500 - 6.5 ft. Bed
2011-2018 Ram 2500/3500 - 6.5 ft. Bed
2019 Ram 2500/35...

Item ID: 93430-EX

$449.00




Fits:
2009-2010 Dodge Ram 1500 - 8 ft. Bed
2011-2018 Ram 1500 - 8 ft. Bed
2019 Ram 1500 - 8 ft. Bed (Old Body Style)
2010 Dodge Ram 2500/3500 - 8 ft. Bed
2011-2018 Ram 2500/3500 - 8 ft. Bed
2019 Ram 2500/3500 - 8 ft. ...

Item ID: 93435-EX

$449.00




Without Cargo Management System

Fits:
2014-2018 Chevrolet Silverado 1500 - 6.5 ft. Bed
2015-2018 Chevrolet Silverado 2500/3500 - 6.5 ft. Bed
2014-2018 GMC Sierra 1500 - 6.5 ft. Bed
2015-2018 GMC Sierra 2500/3500 - 6.5 ft. Bed


Item ID: 93450-EX

$449.00




Fits:
2014-2018 Chevrolet Silverado 1500 - 8 ft. Bed
2015-2018 Chevrolet Silverado 2500/3500 - 8 ft. Bed
2014-2018 GMC Sierra 1500 - 8 ft. Bed
2015-2018 GMC Sierra 2500/3500 - 8 ft. Bed


Item ID: 93455-EX

$449.00




Fits:
2019-2020 Chevrolet Silverado 1500 - 5.8 ft. Bed
2019-2020 GMC Sierra 1500 - 5.8 ft. Bed


Item ID: 93456-EX

$449.00




Fits:
2019-2020 Chevrolet Silverado 1500 - 6.5 ft. Bed
2019-2020 GMC Sierra 1500 - 6.5 ft. Bed


Item ID: 93457-EX

$449.00




Without Utility Track System

Fits:
2014-2020 Toyota Tundra - 6.5 ft. Bed


Item ID: 93465-EX

$449.00




Fits:
2015-2020 Ford F-150 - 6.5 ft. Bed


Item ID: 93480-EX

$449.00




Fits:
2015-2020 Ford F-150 - 8 ft. Bed


Item ID: 93485-EX

$449.00




Fits:
2017-2020 Ford F-250/F-350 - 6.5 ft. Bed


Item ID: 93486-EX

$449.00




Fits:
2017-2020 Ford F-250/F-350 - 8 ft. Bed
(Includes Dually)

Item ID: 93488-EX

$449.00




Without Cargo Management System

Fits:
2007-2013 Chevrolet Silverado 1500 - 6.5 ft. Bed
2007-2014 Chevrolet Silverado 2500/3500 - 6.5 ft. Bed
2007-2013 GMC Sierra 1500 - 6.5 ft. Bed
2007-2014 GMC Sierra 2500/3500 - 6.5 ft. Bed
(Excludes 2007 Classic)


Item ID: 93650-EX

$449.00




Without Optional Bedside Storage Box

Fits:
2020-2021 Chevrolet Silverado 2500 HD - Short Bed (82.2" Box)
2020-2021 Chevrolet Silverado 3500 HD - Short Bed (82.2" Box)
2020-2021 GMC Sierra 2500 HD - Short Bed (82.2" Box)
2020-2021 GMC Sierra 2500 HD - Short Bed (82...

Item ID: 93653-EX

$449.00




Fits:
2007-2013 Chevrolet Silverado 1500 - 8 ft. Bed
2007-2014 Chevrolet Silverado 2500/3500 - 8 ft. Bed
2007-2013 GMC Sierra 1500 - 8 ft. Bed
2007-2014 GMC Sierra 2500/3500 - 8 ft. Bed
(Excludes 2007 Classic)


Item ID: 93655-EX

$449.00




Fits:
1999-2016 Ford F-250/F-350/F-450 - 6.5 ft. Bed


Item ID: 93720-EX

$449.00




Fits:
1999-2016 Ford F-250/F-350/F-450 - 8 ft. Bed


Item ID: 93725-EX

$449.00




Fits:
2002-2008 Dodge Ram 1500 - 6.5 ft. Bed
2003-2009 Dodge Ram 2500/3500 - 6.5 ft. Bed


Item ID: 93770-EX

$449.00




Fits:
2004-2008 Ford F-150 - 6.5 ft. Bed
(Excludes 2004 Heritage Edition)
(Excludes Flareside)


Item ID: 93790-EX

$449.00




Fits:
2004-2008 Ford F-150 - 8 ft. Bed
(Excludes 2004 Heritage Edition)

Item ID: 93795-EX

$449.00




Fits:
1999-2006 Chevrolet Silverado 1500 - 6.5 ft. Bed
2001-2006 Chevrolet Silverado 2500/3500 - 6.5 ft. Bed
2007 Chevrolet Silverado 1500/2500/3500 (Classic) - 6.5 ft. Bed
1999-2006 GMC Sierra 1500 - 6.5 ft. Bed
2001-2006...

Item ID: 93940-EX

$449.00




Fits:
1999-2006 Chevrolet Silverado 1500 - 8 ft. Bed
2001-2006 Chevrolet Silverado 2500/3500 - 8 ft. Bed
2007 Chevrolet Silverado 1500/2500/3500 (Classic) - 8 ft. Bed
1999-2006 GMC Sierra 1500 - 8 ft. Bed
2001-2006 GMC Sie...

Item ID: 93945-EX

$449.00
per page