You are here:

Luverne Textured Mud Flaps - 250230
Luverne Textured Mud Flaps - 250230
12" x 20"
Front or Rear
Order 2 for complete Front and Rear Install
(Excludes Dually Rear)
With or Without Factory Fender Flares [?] What Are Fender Flares?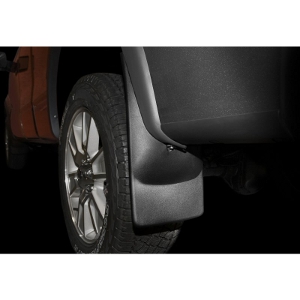 Fender Flares are plastic trim pieces that cover the edge of the wheel well opening. They may be black or painted to match.

The Luverne textured mud flaps feature custom fit applications for Chevy, GMC, Ford and Dodge trucks as well as Universal applications in various sizes. They are constructed of heavy duty 3/8" textured rubber with an 18 gauge stainless steel plate attached to the bottom.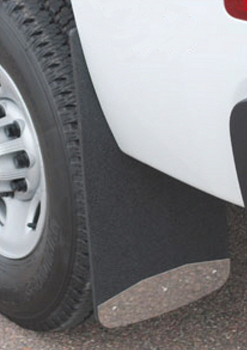 LUVERNE Textured Rubber Mud Flaps offer extra body protection for your vehicle, featuring 3/8" thick recycled rubber flaps and 18-gauge stainless steel plates. They are designed for vehicle-specific application and are available for the front and rear on many trucks. When it comes to protecting your truck, Jeep or SUV, LUVERNE Textured Mud Guards are made to master the job.
3/8" thick, recycled rubber flaps protect with the right amount of flex
Textured rubber surface hides scuffs and scratches to maintain a clean finish
High-polish, 18-gauge stainless steel plates resist corrosion and add style
Heavy-duty design extends body life by deflecting rocks and other debris
Easy to install with included corrosion-resistant mounting hardware
High-strength steel brackets feature a durable black powder coat finish
Limited lifetime finish warranty and five-year warranty against defects
Custom fit and universal applications are available
Sold in Pairs
Made in the U.S.A., may contain some imported hardware
Code: 020P
Average customer rating
:
Only registered customers are allowed to add review. Please sign in and add your own review!
1 Most useful customer reviews (see all reviews):
per page
Only registered customers are allowed to add review. Please sign in and add your own review!
# Videos Start if ($product_info['video1url'] != "") # Videos End