You are here:

Putco Pillar Post Trim - Stainless Steel
Putco Pillar Post Trim - Stainless Steel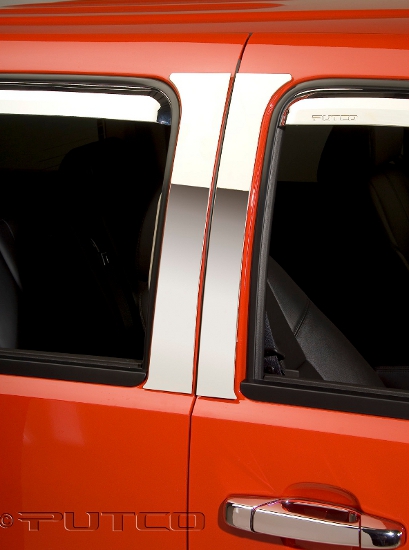 *Chrome Rainguards Not Included

Enhances the look of your vehicle with pillar post trim by Putco! Made of stainless steel. Long lasting material designed to withstand the rigors of the elements. Matches OEM chrome perfectly. Installs with pre-applied red 3M™ tape. No drilling, no cutting, and easily installed in minutes. Limited lifetime warranty.



Enhances The Look Of Your Vehicle For A True Custom Look!



Matches OEM Chrome Perfectly



Installs With Pre-Applied Red 3M™ Tape


Made Of Stainless Steel. Long Lasting Material Designed To Withstand The Rigors Of The Elements



No Drilling, No Cutting, And Easily Installed In Seconds



Limited Lifetime Warranty



All applications are 4 piece unless otherwise stated.



Image
Description
Price

Quantity




2 Piece


Fits:
2015-2022 Chevrolet Colorado - Extended Cab
2015-2022 GMC Canyon - Extended Cab

Item ID: 402677

$58.95




4 Piece


Fits:
2015-2022 Chevrolet Colorado - Crew Cab
2015-2022 GMC Canyon - Crew Cab

Item ID: 402676

$95.95




4 Piece


Fits:
2014-2021 Toyota Tundra - Crew Max

Item ID: 402620-

$100.99




4 Piece


Fits:
1999-2007 Ford F-250/F-350/F-450 - Crew Cab


Item ID: 402600

$102.95




4 Piece


Fits:
2004-2014 Ford F-150 - Super Crew
(Excludes 2004 Heritage Edition)

Item ID: 402601

$102.95




4 Piece


Fits:

1999-2006 Chevrolet Silverado 1500 - Extended Cab

2007 Chevrolet Silverado 1500 - Extended Cab (Classic)

2001-2006 Chevrolet Silverado 2500/3500 - Extended Cab

2007 Chevrolet Silverado 2500/3500 - Extended Cab (Classic)

Item ID: 402602

$102.95




4 Piece


Fits:
2004-2006 Chevrolet Silverado 1500 - Crew Cab
2007 Chevrolet Silverado 1500 - Crew Cab (Classic)
2001-2006 Chevrolet Silverado 2500/3500 - Crew Cab
2007 Chevrolet Silverado 2500/3500 - Crew Cab (Classic)
2004-2006 GM...

Item ID: 402603

$102.95




4 Piece


Fits:
2002-2008 Dodge Ram 1500 - Quad Cab (Extended)
2003-2009 Dodge Ram 2500/3500 - Quad Cab (Extended)


Item ID: 402604

$102.95




6 Piece


Fits:
2005-2010 Chrysler 300
2005-2008 Dodge Magnum

Item ID: 402605

$102.95




4 Piece


Fits:
2007-2013 Chevrolet Silverado 1500 - Crew Cab
2007-2014 Chevrolet Silverado 2500/3500 - Crew Cab
2007-2013 GMC Sierra 1500 - Crew Cab
2007-2014 GMC Sierra 2500/3500 - Crew Cab
(Excludes 2007 Classic)

Item ID: 402607

$102.95




4 Piece


Fits:
2007-2013 Chevrolet Silverado 1500 - Extended Cab
2007-2014 Chevrolet Silverado 2500/3500 - Extended Cab
2007-2013 GMC Sierra 1500 - Extended Cab
2007-2014 GMC Sierra 2500/3500 - Extended Cab
(Excludes 2007 Classic)

Item ID: 402608

$102.95




4 Piece


Fits:
2007-2013 Chevrolet Avalanche

Item ID: 402609

$102.95




4 Piece


Fits:
2007-2014 Cadillac Escalade (Standard)
(Excludes ESV and EXT)

Item ID: 402610

$102.95




4 Piece


Fits:
2007 - 2014 Cadillac Escalade ESV
2007 - 2013 Cadillac Escalade EXT


Item ID: 402611

$102.95




4 Piece


Fits:
2007-2014 Chevrolet Tahoe


Item ID: 402612

$102.95




4 Piece


Fits:
2007-2014 Chevrolet Suburban 1500


Item ID: 402613

$102.95




4 Piece


Fits:
2007-2014 GMC Yukon XL


Item ID: 402618

$102.95




4 Piece


Fits:
2008-2016 Ford F-250/F-350/F-450 - Crew Cab


Item ID: 402621

$102.95




6 Piece


Fits:
2008-2012 Honda Accord - Sedan

Item ID: 402653

$102.95




4 Piece


Fits:
2014-2018 Chevrolet Silverado 1500 - Crew Cab
2015-2019 Chevrolet Silverado 2500/3500 - Crew Cab
2014-2018 GMC Sierra 1500 - Crew Cab
2015-2019 GMC Sierra 2500/3500 - Crew Cab
2019 Chevrolet Silverado 1500 - Crew Cab...

Item ID: 402669

$102.95




4 Piece


Fits:
2014-2018 Chevrolet Silverado 1500 - Double Cab
2015-2019 Chevrolet Silverado 2500/3500 - Double Cab
2019 Chevrolet Silverado 1500 - Double Cab (Legacy/Old Body Style)
2014-2018 GMC Sierra 1500 - Double Cab
2015-2019...

Item ID: 402669-

$102.99




4 Piece


Fits:
2007-2021 Toyota Tundra - Double Cab (Extended)

Item ID: 402620

$106.95




4 Piece


Fits:
2004-2015 Nissan Titan - Crew Cab


Item ID: 402637

$121.95




4 Piece


Fits:
2009-2010 Dodge Ram 1500 - Crew Cab
2011-2018 Ram 1500 - Crew Cab
2019 Ram 1500 - Crew Cab (Old Body Style)
2010 Dodge Ram 2500/3500 - Crew Cab
2011-2020 Ram 2500/3500 - Crew Cab


Item ID: 402522

$127.95




6 Piece


Fits:
2005-2010 Nissan Armada - 4 Door


Item ID: 402631

$131.99
per page