You are here:

Roll-N-Lock M-Series
Roll-N-Lock M-Series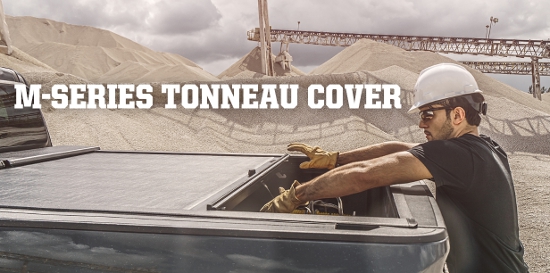 The Most Advanced Truck Bed Cover Ever Made.
From its retractable function, which permits opening or closing in literally seconds, to its rigid, vinyl-over-aluminum laminated construction, the Roll-N-Lock M-Series hybrid cover offers everything other covers do not. There are no snaps to manipulate, there is no roll or bundle to lash down or stow, no crossbars to negotiate, no fabric shrinkage to struggle with, no folding or solid hinged covers to combat, and, best of all, no worries about the security of cargo. The Roll-N-Lock M-Series tonneau cover…by far the most intelligent and versatile tonneau cover made.
The Roll-N-Lock Difference

What sets Roll-N-Lock's M-Series tonneau cover construction apart from the competition is not just the superior quality of our vinyl surface material, but also the design of the slatted aluminum substrate which supports the vinyl. Each Roll-N-Lock slat is rotatively joined by an interlocking hinge. It is the geometry of this uniquely-contoured hinge that lends Roll-N-Lock tonneau covers their strength, quiet, smooth, non-binding movement and roll compactness. Close examination of the Roll-N-Lock hinge in the flat position reveals the fact that each slat is inseparably locked together, yet when rotated, no metal-to-metal contact occurs.



Clamp on Installation


Drainage Tubes Help Keep Your Cargo Dry


Custom Fit to Your Truck Bed


Weather Resistant


Strong and Durable


Built in Tailgate Lock For Extra Security



Made in the USA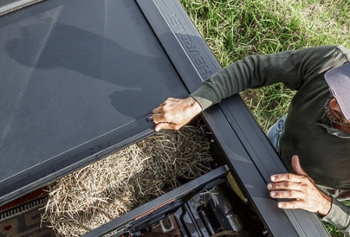 Finger Insulator Grip
For hot, sunny climates, we have developed a finger insulator grip, which allows the handle to be grasped without fingertips being burned..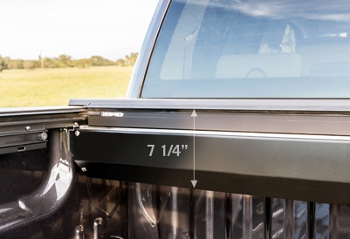 Compact Housing & Flush Handle
With the M-Series tonneau cover fully retracted, the handle mechanism rolls back flush with the face of Roll-N-Lock's compact housing, allowing more room for unobstructed storage.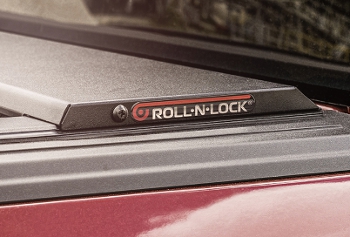 Low Profile Aerodynamic Lid
The M-Series' sleek appearance is enhanced by a low profile, aerodynamically styled housing lid. The lid is secured to the unit by two screws and two concealed pins.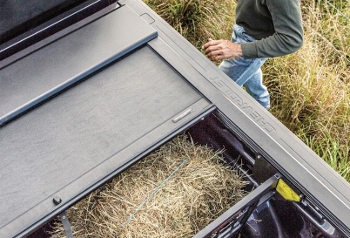 Multiple Latching Positions
With just a turn of the lock-lever, the Roll-N-Lock tonneau cover slides open. As the cover is pulled back using the convenient built-in pull strap, the patented ratchet-style locking mechanism latches in place at ¼, ½, ¾ or fully closed positions.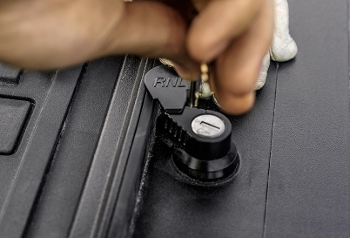 Key Slot Cover
For colder regions, we have developed a key slot cover to prevent water from entering the lock mechanism and freezing.




Image
Description
Price

Quantity




Fits:
2004-2015 Nissan Titan - 5.5 ft. Bed


Item ID: LG825M

$1369.00




Fits:
2005-2015 Toyota Tacoma - 6 ft. Bed


Item ID: LG502M

$1379.00




Fits:
2005-2015 Toyota Tacoma - 5 ft. Bed


Item ID: LG507M

$1379.00




ROLL-N-LOCK unit impedes operation of the original equipment Bed Extender option

Fits:
2016-2021 Toyota Tacoma - 5 ft. Bed


Item ID: LG530M

$1379.00




ROLL-N-LOCK unit impedes operation of the original equipment Bed Extender option

Fits:
2016-2021 Toyota Tacoma - 6 ft. Bed


Item ID: LG531M

$1379.00




Works With or Without Factory Tailgate Step

Fits:
2009-2014 Ford F-150 - 8 ft. Bed


Item ID: LG113M

$1449.00




Fits:
2006-2014 Honda Ridgeline


Item ID: LG720M

$1449.00




Fits:
2015-2022 Ford F-150 - 5.5 ft. Bed


Item ID: LG101M

$1469.00




Fits:
2015-2022 Ford F-150 - 6.5 ft. Bed


Item ID: LG102M

$1469.00




Fits:
2015-2022 Ford F-150 - 8 ft. Bed


Item ID: LG103M

$1469.00




Fits:
1999-2007 Ford F-250/F-350/F-450 - 6.5 ft. Bed


Item ID: LG107M

$1469.00




Excludes Flareside [?] What does Flareside mean?

Flareside is a term used by Ford to describe the bed of the truck when it has steps in the side. It can also be referred to as a stepside bed.

Fits:

2004-2008 Ford F-150 - 6.5 ft. Bed

(Excludes 2004 Heritage Edition)

(Excludes Flareside)

Item ID: LG108M

$1469.00




Works With or Without Factory Tailgate Step

Fits:
2008-2016 Ford F-250/F-350/F-450 - 6.5 ft. Bed


Item ID: LG109M

$1469.00




Works With or Without Factory Tailgate Step

Fits:
2009-2014 Ford F-150 - 5.5 ft. Bed


Item ID: LG111M

$1469.00




Works With or Without Factory Tailgate Step

Fits:
2009-2014 Ford F-150 - 6.5 ft. Bed
(Excludes Flareside)


Item ID: LG112M

$1469.00




Fits:
1999-2007 Ford F-250/F-350/F-450 - 8 ft. Bed


Item ID: LG117M

$1469.00




Works With or Without Factory Tailgate Step

Fits:
2008-2016 Ford F-250/F-350/F-450 - 8 ft. Bed


Item ID: LG119M

$1469.00




Fits:
2017-2022 Ford F-250/F-350 - 6.5 ft. Bed

Item ID: LG151M

$1469.00




Fits:
2017-2022 Ford F-250/F-350 - 8 ft. Bed
(Includes Dually)

Item ID: LG152M

$1469.00




Fits:
2004-2008 Ford F-150 - 5.5 ft. Bed
2006-2009 Lincoln Mark LT - 5.5 ft. Bed
(Excludes 2004 Heritage Edition)


Item ID: LG170M

$1469.00




Excludes Stepside [?] What does Stepside mean?

Stepside is a term used to describe the bed of the truck when it has steps in the side of the bed. These beds are not as wide as a standard bed and truck bed accessories for trucks with standard beds will not work on trucks with a stepside bed.

Fits:
1999-2006 Chevrolet Silverado 1500 - 6.5 ft. Bed
2001-2006 Chevrolet Silverado 2500/3500 - 6.5 ft. Bed
2007 Chevrolet Silverado 1500/2500/3500 (Classic) - 6.5 ft. Bed
1999-2006 GMC Sierra 1500 - 6.5 ft. ...

Item ID: LG206M

$1469.00




Fits:
2007-2013 Chevrolet Silverado 1500 - 6.5 ft. Bed
2007-2014 Chevrolet Silverado 2500/3500 - 6.5 ft. Bed
2007-2013 GMC Sierra 1500 - 6.5 ft. Bed
2007-2014 GMC Sierra 2500/3500 - 6.5 ft. Bed
(Excludes 2007 Classic)


Item ID: LG207M

$1469.00




For Trucks with Bed Caps

Fits:
1999-2006 Chevrolet Silverado 1500 - 6.5 ft. Bed
2001-2006 Chevrolet Silverado 2500/3500 - 6.5 ft. Bed
2007 Chevrolet Silverado 1500/2500/3500 (Classic) - 6.5 ft. Bed
1999-2006 GMC Sierra 1500 - 6.5 ft. ...

Item ID: LG208M

$1469.00




Fits:
2007-2013 Chevrolet Silverado 1500 - 8 ft. Bed
2007-2014 Chevrolet Silverado 2500/3500 - 8 ft. Bed
2007-2013 GMC Sierra 1500 - 8 ft. Bed
2007-2014 GMC Sierra 2500/3500 - 8 ft. Bed
(Excludes 2007 Classic)


Item ID: LG217M

$1469.00




For Trucks with Bed Caps

Fits:
1999-2006 Chevrolet Silverado 1500 - 8 ft. Bed
2001-2006 Chevrolet Silverado 2500/3500 - 8 ft. Bed
2007 Chevrolet Silverado 1500/2500/3500 (Classic) - 8 ft. Bed
1999-2006 GMC Sierra 1500 - 8 ft. Bed
2001-2006 GMC Sie...

Item ID: LG218M

$1469.00
per page