You are here:

Stampede Rain Guards - Chrome - 6066--8
Stampede Rain Guards - Chrome - 6066--8
Chrome
4 Piece Set
Tape On Installation

Fits:
2007-2014 Chevrolet Suburban 1500
2007-2013 Chevrolet Avalanche 1500
2007-2014 GMC Yukon XL 1500



No Drill Installation
4x4 4x2 four drive wheel two clamps that fit fits truck brand low price lowest # over a and on show me trucks part number item product my looking i'm for
2007 07 2008 08 2009 09 2010 10 2011 11 2012 12 2013 13 2014 14
chevy chevrolet gmc yukon xl suburban avalanche cadillac escalade ext esv
window vent visor chrome plated rain guards rainguards guad rainguard vents visors deflector deflectors
stampede products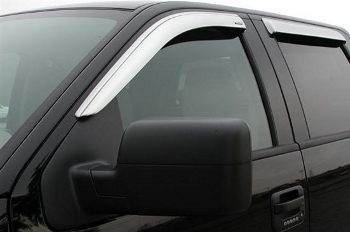 Beat the elements and add some attitude to your Truck, Van or SUV. Sidewind Deflectors allow you to keep your windows partially open, to provide ventilation to the interior. Even in the rain! Today's modern aerodynamic body styles form fitting doors and windows no longer feature "Rain Gutters" to channel away water. The result is usually water dripping into the interior. Sidewinds act like a "Drip Edge" for your vehicle, this allows you to keep your window partially open for ventilation, without the rain getting in. As air flows around the outside edge of the Sidewind it creates a small low pressure area underneath it (Much Like An Airplane Wing)which creates suction to keep out the wind and draw out the stale air from inside your vehicle.
Available in 2 or 4 Piece Sets
Tape On Installation
Contemporary Styling
Scratch Resistant
Durable And UV Stable
True Chrome Plated Plastic
Quick And Easy Installation
Mirror Like Finish
Limited 1 Year Warranty
There have been no reviews


Only registered customers are allowed to add review. Please sign in and add your own review!
# Videos Start if ($product_info['video1url'] != "") # Videos End