You are here:

WeatherTech Window Deflectors - 80184--
WeatherTech Window Deflectors - 80184--
Dark Tint
2 Piece Set (Front Only)
In Channel Installation

Fits:
2004-2006 Chevrolet Silverado 1500 - Crew Cab
2007 Chevrolet Silverado 1500 - Crew Cab (Classic)
2001-2006 Chevrolet Silverado 2500/3500 - Crew Cab
2007 Chevrolet Silverado 2500/3500 - Crew Cab (Classic)
2004-2006 GMC Sierra 1500 - Crew Cab
2007 GMC Sierra 1500 - Crew Cab (Classic)
2001-2006 GMC Sierra 2500/3500 - Crew Cab
2007 GMC Sierra 2500/3500 - Crew Cab (Classic)
Note: WeatherTech Products do not qualify for Free Shipping. Shipping charges will be added in the cart on a per item basis.


No Drill Installation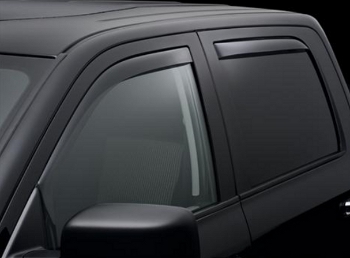 WeatherTech® Side Window Deflectors offer you fresh air enjoyment with an original equipment look. They are crafted in Germany from the finest 3mm lightly-tinted acrylic material available. Installation is quick and easy, with no exterior tape needed. WeatherTech® Side Window Deflectors are precision-machined to perfectly fit your vehicle. These low profile window deflectors help to reduce wind noise and allow interior heat to escape.
Available in 2 or 4 piece kits
Maximize your fresh air enjoyment.
Optically transparent.
OEM quality.
Sleek aerodynamic styling.
Reduces wind noise.
Installs inside the window channel.
No unsightly exterior tape.
Minimizes interior heat when parked.
Helps keep side windows dry in the rain.
Limited Lifetime Warranty
Standard Installation Instructions
There have been no reviews


Only registered customers are allowed to add review. Please sign in and add your own review!
# Videos Start if ($product_info['video1url'] != "") # Videos End