You are here:

Westin Bull Bar - E Series - Polished Stainless Steel - 31-5360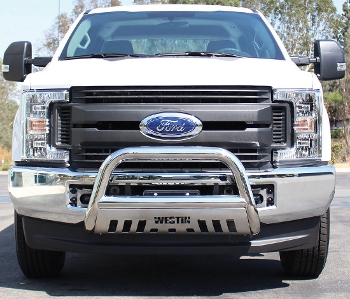 That rugged appearance at an economical price! The E-Series version of Westin's Bull Bar is perfect for seekers of a rough and tough look. A polished stainless steel shine and a classic skid plate design are essential E-Series elements. Install Westin Driving Lights on mounting points along the center bar for maximized use and function. Ensure your vehicle with the protection of an E-Series Bull Bar. The right look at the right price and it comes with a Lifetime Warranty. The right decision. There are no excuses!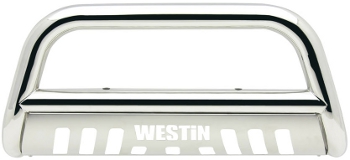 Frame Mount (most applications)
Mounting Points For Optional Driving Lights
Drilling Not Required (most applications)
Includes Newly Designed Skid Plate
Mount Kit Included
Limited Lifetime Warranty
*Your state may require you to display a front license plate. If required, order License Re-locator P/N# 32-0055. For use with Ultimate and E-Series Bull Bars.
Type: Tube
Finish: Polished
Color: Silver
Material: Stainless Steel
Tubing Diameter (IN): 3 Inch
Installation Type: Bolt-On
With Light Mounts: Yes

Code: 05E
There have been no reviews


Only registered customers are allowed to add review. Please sign in and add your own review!
# Videos Start if ($product_info['video1url'] != "") # Videos End