You are here:

BedRug Carpet Truck Bed Liner - BRT19SBK
BedRug Carpet Truck Bed Liner - BRT19SBK
Without RamBox [?] What is a RamBox?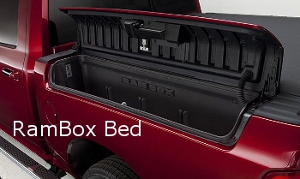 The RamBox is a factory installed storage compartment available as an option on Ram trucks. The RamBox truck bed is significantly different from the standard Ram bed. With that being the case, bed accessories like tonneau covers are built to work with the RamBox feature.

Fits:
2019-2020 Ram 1500 - 6.5 ft. Bed\
(excludes RamBox)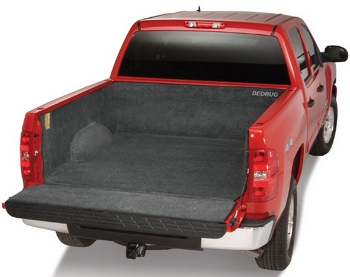 This is the most innovative and unique truck bed liner there is. You get the look and comfort of carpet, in an ultra-tough 100% polypropylene (essentially plastic) product. That means not only will it protect your truck bed from impact dings and damage, it will stand up to the most harsh conditions you can throw at it: from gravel to battery acid, while still protecting your precious cargo and your knees!
Molded to fit your specific make and model, this liner looks great and fits like a glove. It creates a void-free surface without damaging your truck and allows easy access to factory tie-downs and accessories. Its non-skid surface keeps your cargo in place, and a built-in hinge between the truck bed and tailgate prevents debris from collecting. The BedRug material is fade and UV resistant. Made of foam similar to that used in life jackets, it doesn't absorb water and will not mold or mildew. Water will simply run off the surface, through the zippered perimeter, out the factory drain holes in the truck bed and will dry in as little as 20 minutes. Just clean it with a hose, power washer or vacuum and your BedRug is good as new.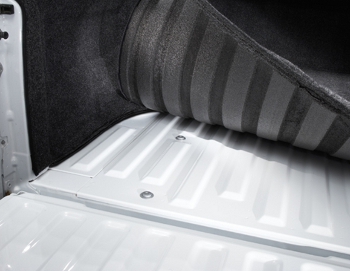 Rugged Construction Handles Heavy Cargo
Bleach, Oil Even Battery Acid Washes Off
Comfortable Knee Friendly ¾" Cushioned Floor
Floor is Contoured to the Ribs of Your Truck Bed
Anti-Skid Surface Prevents Cargo From Shifting
Engineered for Exterior Use
Stain & UV Resistant
Marine Grade Material Will Not Mold or Mildew
Easily Cleaned With Just Water
Code: 030E
There have been no reviews


Only registered customers are allowed to add review. Please sign in and add your own review!
# Videos Start if ($product_info['video1url'] != "") # Videos End