Westin E-Series Bull Bars - Stainless Steel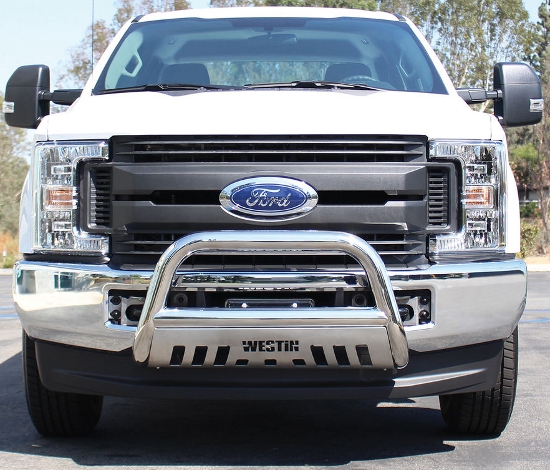 That rugged appearance at an economical price! The E-Series version of Westin's Bull Bar is perfect for seekers of a rough and tough look. A polished stainless steel shine and a classic skid plate design are essential E-Series elements. Install Westin Driving Lights on mounting points along the center bar for maximized use and function. Ensure your vehicle with the protection of an E-Series Bull Bar. The right look at the right price and it comes with a Lifetime Warranty. The right decision. There are no excuses!
>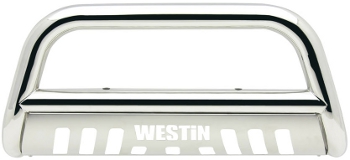 Frame Mount (most applications)



Mounting Points For Optional Driving Lights



Drilling Not Required (most applications)



Includes Newly Designed Skid Plate



Mount Kit Included



Limited Lifetime Warranty



*Your state may require you to display a front license plate. If required, order License Re-locator P/N# 32-0055. For use with Ultimate and E-Series Bull Bars.
Image
Description
Price

Quantity




Fits:
2019-2021 Chevrolet Silverado 1500
2019-2021 GMC Sierra 1500


Item ID: 31-3950

$449.95




Fits:
2019-2021 Ram 1500 (New Body Style)


Item ID: 31-3970

$449.95




Fits:
2019-2021 Ford Ranger


Item ID: 31-3980

$449.95




Fits:
2015-2022 Chevrolet Colorado
2015-2022 GMC Canyon


Item ID: 31-5120

$449.95




Fits:
2015-2020 Chevrolet Suburban 1500
2015-2020 Chevrolet Tahoe


Item ID: 31-5130

$449.95




Fits:
1999-2006 Chevrolet Silverado 1500
2007 Chevrolet Silverado 1500 (Classic)
2000-2006 Chevrolet Suburban 1500
2000-2006 Chevrolet Tahoe
2002-2006 Chevrolet Avalanche 1500 (without cladding)
1999-2006 GMC Sierra 1...

Item ID: 31-5170

$449.95




Fits:
2007-2021 Toyota Tundra
2007-2019 Toyota Sequoia


Item ID: 31-5250

$449.95




Fits:
2011-2016 Ford F-250/F-350/F-450


Item ID: 31-5370

$449.95




Fits:
2004-2008 Ford F-150
(Excludes 2004 Heritage Edition)


Item ID: 31-5390

$449.95




Fits:
2009-2014 Ford F-150


Item ID: 31-5490

$449.95




Fits:
2010 Dodge Ram 2500/3500
2011-2018 Ram 2500/3500
2019 Ram 2500/3500 (Old Body Style)


Item ID: 31-5550

$449.95




Fits:
2011-2019 Ford Explorer


Item ID: 31-5570

$449.95




Fits:
2005-2015 Toyota Tacoma

Item ID: 31-5600

$449.95




Fits:
2010-2022 Toyota 4Runner


Item ID: 31-5610

$449.95




Fits:
2015-2019 Chevrolet Silverado 2500/3500
2015-2019 GMC Sierra 2500/3500


Item ID: 31-5630

$449.95




Fits:
2005-2007 Ford F-250/F-350/F-450/F-550 Super Duty
2005-2007 Ford Excursion


Item ID: 31-5640

$449.95




Fits:
2017-2022 Ford F-250/F-3500
2017-2021 Ford F-450/F-550


Item ID: 31-5900

$449.95




(excludes Mega Cab)

Fits:
2006-2008 Dodge Ram 1500


Item ID: 31-5950

$449.95




Fits:
2009-2010 Dodge Ram 1500
2011-2018 Ram 1500
2019 Ram 1500 (Legacy/Old Body Style)


Item ID: 31-5960

$449.95




Fits:
2014-2015 Chevrolet Silverado 1500
2014-2015 GMC Sierra 1500


Item ID: 31-5980

$449.95




Fits:
2015-2022 Ford F-150


Item ID: 31-5990

$449.95




Fits:
2016-2020 Toyota Tacoma


Item ID: 31-6000

$449.95
per page