You are here:

Extang Solid Fold 2.0
Extang Solid Fold 2.0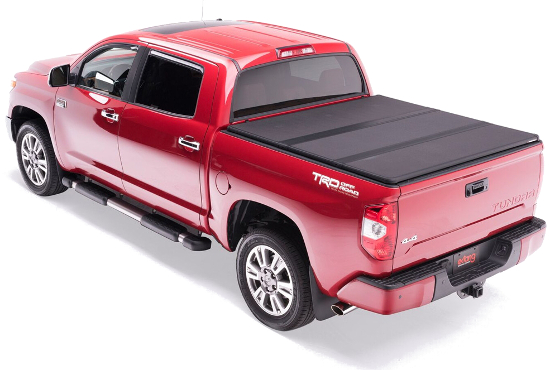 Extang's latest generation of hard tri-fold truck bed covers include design elements that you simply will not find anywhere else. The Solid Fold 2.0 now includes Extang's exclusive, patented Jaw-Grip and EZ-Lock clamps, EnduraShield panels, revolutionary snap-on perimeter seals, and integrated corner and hinge seals.
STRONG

The Solid Fold 2.0's EnduraShield panels feature an automotive grade polymer that resists denting, scratches, and UV induced fading better than aluminum or fiberglass panels. Extang's professionally engineered aluminum frame and hinges are power coated to match your truck's bed caps for an integrated cohesive appearance and incredible protection from wear.
DURABLE

The Solid Fold 2.0's robust, 1" thick panels are incredibly sturdy but remarkably light, thanks to Extang's exclusive use of a closed-cell polypropylene foam core. Extang's panels offer superior thermal stability and stay cooler to the touch on hot days.
WEATHER TIGHT

The leading edge of protection from the elements is Extang's exclusive perimeter seal. Extang's seals snap onto our perimeter frame without adhesive and our new and improved hinge corner caps are coextruded to permanently attach the fin seal to the frame. The Solid Fold 2.0's resilient seals will not peel away or fold under pressure and are designed to withstand thousands of opening and closing cycles.
EASY-TO-USE

The Solid Fold 2.0 is incredibly easy to install and remove. For most applications, a complete installation can be accomplished in under 5 minutes
EXTANG YOUR TRUCK

If you are looking for a secure, reliable way to protect your truck bed, look no further that the Extang Solid Fold 2.0!




FRP (Fiberglass Reinforced Plastic) Panels


More Versatility


User Friendly Removal


Clamp on, No-Drill Installation


Completely Self Contained


Made in the USA


3 Year Warranty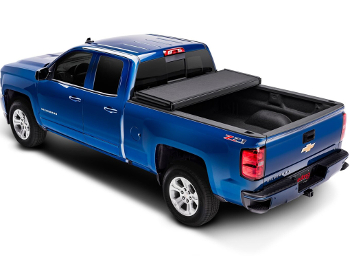 Extang Engineered
Extang's exclusive, lightweight, 1-inch thick EnduraShield panel has a polypropylene core and provides the ultimate in dent resistance. It is cool to touch on hot days and will not fade in the sun!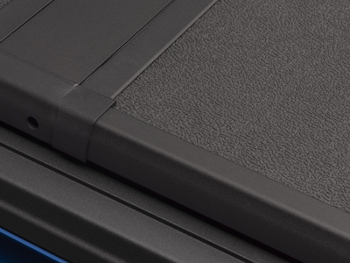 OEM Matte Finish
The Solid Fold 2.0 features a black, matte finish and a textured, powder coated aluminum frames and hinges for extra wear resistance. It looks like it was designed to be a part of your truck!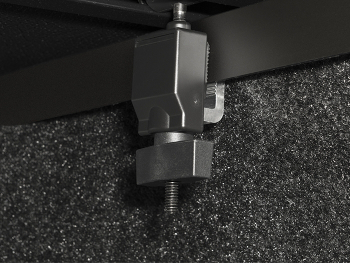 Jaw-Grip Clamps
Our new cab clamps lead the industry by attaching directly to your bed flanges without damage or alteration to your bed caps. Our exclusive patented clamp is the strongest in the industry!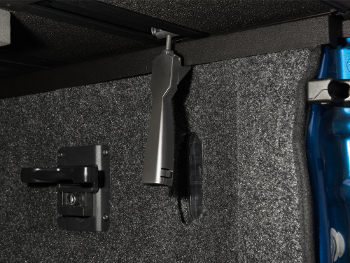 EZ-Lock Clamps
The re-engineered, patented EZ-Lock Clamp requires minimal physical effort to operate and self-locks in position when attached to the bed flange for added security.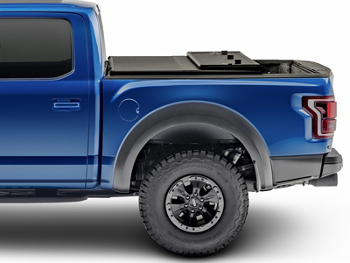 Convenient Cargo Storage
Stow your cargo under the cover, or simply open it up to carry taller items. The cover can be completely removed in seconds to give you 100% access to your truck bed.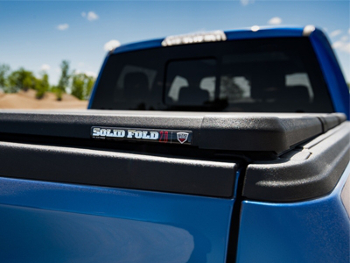 Security
Extang's clamps can only be accessed by lowering the tailgate. The Solid Fold 2.0 creates a secure layer of protection for your belongings/cargo.


Image
Description
Price

Quantity




OVERSIZE ITEM


Fits:

2015-2021 Chevrolet Colorado - 5 ft. Bed

2015-2021 GMC Canyon - 5 ft. Bed

Item ID: 83350-EX

$959.00




OVERSIZE ITEM


Fits:

2015-2021 Chevrolet Colorado - 6 ft. Bed

2015-2021 GMC Canyon - 6 ft. Bed

Item ID: 83355-EX

$959.00




Item ID: 83405-EX

$959.00




OVERSIZE ITEM


Fits:

2009-2014 Ford F-150 - 6.5 ft. Bed

(Excludes Flareside)

Item ID: 83410-EX

$959.00




Item ID: 83421-EX

$959.00




Item ID: 83422-EX

$959.00




OVERSIZE ITEM


Fits:
2009-2010 Dodge Ram 1500 - 5.7 ft. Bed
2011-2018 Ram 1500 - 5.7 ft. Bed
2019 Ram 1500 - 5.7 ft. Bed (Old Body Style)
(Excludes RamBox)

Item ID: 83425-EX

$959.00




OVERSIZE ITEM


Fits:

2009-2010 Dodge Ram 1500 - 6.5 ft. Bed)

2011-2018 Ram 1500 - 6.5 ft. Bed

2019 Ram 1500 - 6.5 ft. Bed (Old Body Style)

2010 Dodge Ram 2500/3500 - 6.5 ft. Bed

2011-2018 Ram 2500/3500 - 6.5 ft. Bed

2019 Ram 2500/35...

Item ID: 83430-EX

$959.00




OVERSIZE ITEM


Fits:

2014-2018 Chevrolet Silverado 1500 - 5.8 ft. Bed

2014-2018 GMC Sierra 1500 - 5.8 ft. Bed

Item ID: 83445-EX

$959.00




OVERSIZE ITEM


Fits:

2014-2018 Chevrolet Silverado 1500 - 6.5 ft. Bed

2015-2018 Chevrolet Silverado 2500/3500 - 6.5 ft. Bed

2014-2018 GMC Sierra 1500 - 6.5 ft. Bed

2015-2018 GMC Sierra 2500/3500 - 6.5 ft. Bed

Item ID: 83450-EX

$959.00




OVERSIZE ITEM


Fits:

2019-2021 Chevrolet Silverado 1500 - 5.8 ft. Bed

2019-2021 GMC Sierra 1500 - 5.8 ft. Bed

Item ID: 83456-EX

$959.00




OVERSIZE ITEM


Fits:

2019-2021 Chevrolet Silverado 1500 - 6.5 ft. Bed

2019-2021 GMC Sierra 1500 - 6.5 ft. Bed

Item ID: 83457-EX

$959.00




Item ID: 83460-EX

$959.00




Item ID: 83480-EX

$959.00




Item ID: 83465-EX

$959.00




Item ID: 83475-EX

$959.00




Item ID: 83486-EX

$959.00




OVERSIZE ITEM


Fits:

2004-2006 Chevrolet Silverado 1500 - 5.8 ft. Bed

2007 Chevrolet Silverado (Classic) 1500 - 5.8 ft. Bed

2004-2006 GMC Sierra 1500 - 5.8 ft. Bed

2007 GMC Sierra 1500 (Classic) - 5.8 ft. Bed

Item ID: 83625-EX

$959.00




OVERSIZE ITEM


Fits:

2007-2013 Chevrolet Silverado 1500 - 5.8 ft. Bed

2007-2013 GMC Sierra 1500 - 5.8 ft. Bed

(Excludes 2007 Classic)

Item ID: 83645-EX

$959.00




Without Optional Bedside Storage Box
OVERSIZE ITEM


Fits:

2020-2022 Chevrolet Silverado 2500/3500 - 6.5 ft. Bed

2020-2022 GMC Sierra 2500/3500 - 6.5 ft. Bed

Item ID: 83653-EX

$959.00




OVERSIZE ITEM


Fits:

2004-2012 Chevrolet Colorado - 5 ft. Bed

2004-2012 GMC Canyon - 5 ft. Bed

Item ID: 83660-EX

$959.00




OVERSIZE ITEM


Fits:

2004-2012 Chevrolet Colorado - 6 ft. Bed

2004-2012 GMC Canyon - 6 ft. Bed

Item ID: 83665-EX

$959.00




OVERSIZE ITEM


Fits:
1999-2016 Ford F-250/F-350/F-450 - 6.5 ft. Bed

Item ID: 83720-EX

$959.00




Item ID: 83765-EX

$959.00




OVERSIZE ITEM


Fits:

2004-2008 Ford F-150 - 5.5 ft. Bed

2006-2009 Lincoln Mark LT - 5.5 ft. Bed

(Excludes 2004 Heritage Edition)

Item ID: 83780-EX

$959.00
per page