You are here:

Extang Trifecta 2.0
Extang Trifecta 2.0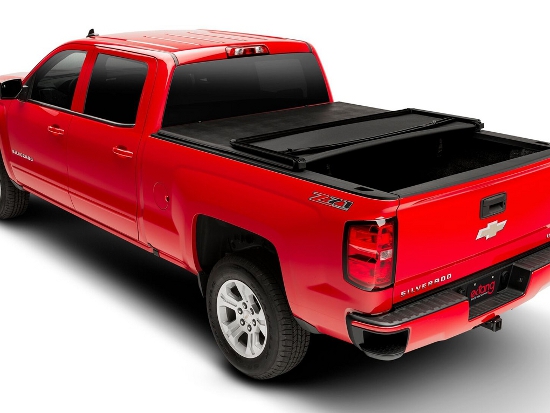 America's Best Selling Tri-Folding Cover


The ALL-NEW Trifecta 2.0 has been reinvigorated with a host of new features but remains easy to install and simple to use. The best selling soft Tri-Fold cover just got better.
SEXIER

The Trifecta 2.0 has softer curves and sleek design that creates smoother, more contoured, low profile appearance. The tarp is constructed of heavy duty, leather grained fabric with an integrated corner tuck system that has improved tarp tension and keeps your truck looking great.
STRONGER

The newly redesigned frame, hinges, and corners provide more structure strength than before. Strongest in the industry, the frame is made of lightweight aircraft grade aluminum. The new MAX hinges are rugged and have a double pivot design. Our exclusive snap on seals eliminate adhesive and remain in place for ultimate weather protection.
SMARTER

The new front Jaw-Grip Clamp and rear EZ-Lock Clamp work smarter not harder for you. The Jaw-Grip clamp tightens horizontally to help prevent over tightening and bed flange damage. The EZ-Lock clamp auto locks in place and requires less physical effort to operate.
CHOOSE SIMPLE

Extang Trifecta 2.0 – Sleek lines and soft curves, On and off in seconds, Smarter clamping system. Available for nearly every truck including tool-box models and our unique Signature Series fabric. Designed, manufactured and assembled in the U.S.A.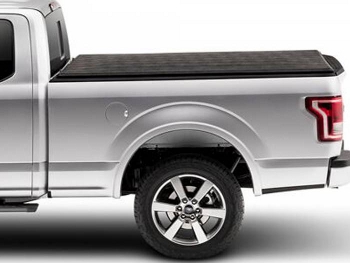 High End Appearance
Heavy duty, leather grained fabric has new smooth, clean lines and low profile appearance.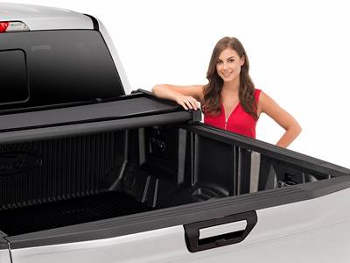 Easy To Install
The all-new Extang Engineered clamping system attaches to your truck in seconds. Simply square up the cover to your truck and clamp the cover on.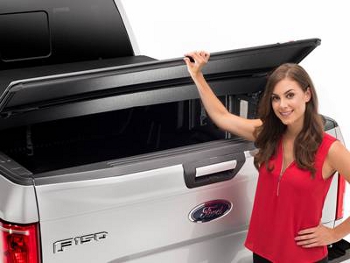 Simple to Use
Open your tailgate, release the EZ-Lock Clamp and fold the cover back to your cab.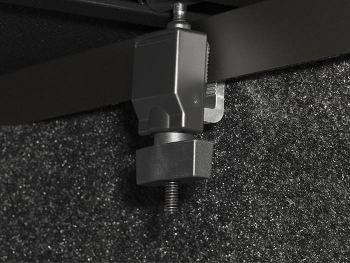 Jaw-Grip Clamps
Our new cab clamps lead the industry by attaching directly to your bed flanges without damage or alteration to your bed caps. Our exclusive patented clamp is the strongest in the industry!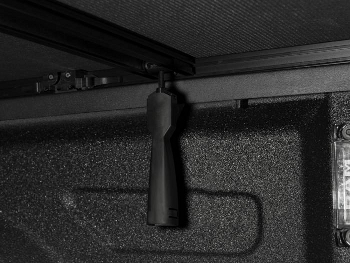 Easy-Lock Clamps
The re-engineered, patented EZ-Lock Clamp requires minimal physical effort to operate and self-locks in position when attached to the bed flange for added security.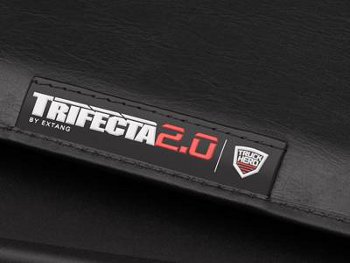 Best-In Class Warranty
Not only does Extang cover your truck bed, we also cover your Trifecta 2.0 for the long haul with our industry exclusive Lifetime Warranty.




Image
Description
Price

Quantity




OVERSIZE ITEM


Fits:

2015-2021 Chevrolet Colorado - 5 ft. Bed

2015-2021 GMC Canyon - 5 ft. Bed

Item ID: 92350-EX

$479.99




OVERSIZE ITEM


Fits:

2015-2021 Chevrolet Colorado - 6 ft. Bed

2015-2021 GMC Canyon - 6 ft. Bed

Item ID: 92355-EX

$479.99




Item ID: 92405-EX

$479.99




OVERSIZE ITEM


Fits:

2009-2014 Ford F-150 - 6.5 ft. Bed

(Excludes Flareside)

Item ID: 92410-EX

$479.99




Item ID: 92421-EX

$479.99




Item ID: 92422-EX

$479.99




OVERSIZE ITEM


Fits:
2009-2010 Dodge Ram 1500 - 5.7 ft. Bed
2011-2018 Ram 1500 - 5.7 ft. Bed
2019 Ram 1500 - 5.7 ft. Bed (Old Body Style)
(Excludes RamBox)

Item ID: 92425-EX

$479.99




OVERSIZE ITEM


Fits:

2009-2010 Dodge Ram 1500 - 6.5 ft. Bed)

2011-2018 Ram 1500 - 6.5 ft. Bed

2019 Ram 1500 - 6.5 ft. Bed (Old Body Style)

2010 Dodge Ram 2500/3500 - 6.5 ft. Bed

2011-2018 Ram 2500/3500 - 6.5 ft. Bed

2019 Ram 2500/35...

Item ID: 92430-EX

$479.99




OVERSIZE ITEM


Fits:

2014-2018 Chevrolet Silverado 1500 - 5.8 ft. Bed

2014-2018 GMC Sierra 1500 - 5.8 ft. Bed

Item ID: 92445-EX

$479.99




OVERSIZE ITEM


Fits:

2014-2018 Chevrolet Silverado 1500 - 6.5 ft. Bed

2015-2018 Chevrolet Silverado 2500/3500 - 6.5 ft. Bed

2014-2018 GMC Sierra 1500 - 6.5 ft. Bed

2015-2018 GMC Sierra 2500/3500 - 6.5 ft. Bed

Item ID: 92450-EX

$479.99




OVERSIZE ITEM


Fits:

2019-2021 Chevrolet Silverado 1500 - 5.8 ft. Bed

2019-2021 GMC Sierra 1500 - 5.8 ft. Bed

Item ID: 92456-EX

$479.99




OVERSIZE ITEM


Fits:

2019-2021 Chevrolet Silverado 1500 - 6.5 ft. Bed

2019-2021 GMC Sierra 1500 - 6.5 ft. Bed

Item ID: 92457-EX

$479.99




Item ID: 92460-EX

$479.99




Item ID: 92465-EX

$479.99




Item ID: 92475-EX

$479.99




Item ID: 92480-EX

$479.99




Item ID: 92486-EX

$479.99




OVERSIZE ITEM


Fits:

1988-1998 Chevrolet C/K 1500 - 6.5 ft. Bed

1988-2000 Chevrolet C/K 2500/3500 - 6.5 ft. Bed

1988-1998 GMC C/K 1500 - 6.5 ft. Bed

1988-2000 GMC C/K 2500/3500 - 6.5 ft. Bed

Item ID: 92540-EX

$479.99




OVERSIZE ITEM


Fits:

1994-2004 Chevrolet S-10 - 6 ft. Bed

1994-2004 GMC Sonoma - 6 ft. Bed

(Excludes Stepside)

Item ID: 92560-EX

$479.99




OVERSIZE ITEM


Fits:

1994-2001 Dodge Ram 1500 - 6.5 ft. Bed

1994-2002 Dodge Ram 2500/3500 - 6.5 ft. Bed

Item ID: 92570-EX

$479.99




OVERSIZE ITEM


Fits:

1993-2004 Ford Ranger - 6 ft. Bed (Flareside)

(Stepside Only)

Item ID: 92600-EX

$479.99




OVERSIZE ITEM


Fits:

2004-2006 Chevrolet Silverado 1500 - 5.8 ft. Bed

2007 Chevrolet Silverado (Classic) 1500 - 5.8 ft. Bed

2004-2006 GMC Sierra 1500 - 5.8 ft. Bed

2007 GMC Sierra 1500 (Classic) - 5.8 ft. Bed

Item ID: 92625-EX

$479.99




Item ID: 92630-EX

$479.99




OVERSIZE ITEM


Fits:

2007-2013 Chevrolet Silverado 1500 - 5.8 ft. Bed

2007-2013 GMC Sierra 1500 - 5.8 ft. Bed

(Excludes 2007 Classic)

Item ID: 92645-EX

$479.99




OVERSIZE ITEM


Fits:

2007-2013 Chevrolet Silverado 1500 - 6.5 ft. Bed

2007-2014 Chevrolet Silverado 2500/3500 - 6.5 ft. Bed

2007-2013 GMC Sierra 1500 - 6.5 ft. Bed

2007-2014 GMC Sierra 2500/3500 - 6.5 ft. Bed

(Excludes 2007 Classic)

Item ID: 92650-EX

$479.99
per page