You are here:

Husky Liners GearBox
Husky Liners GearBox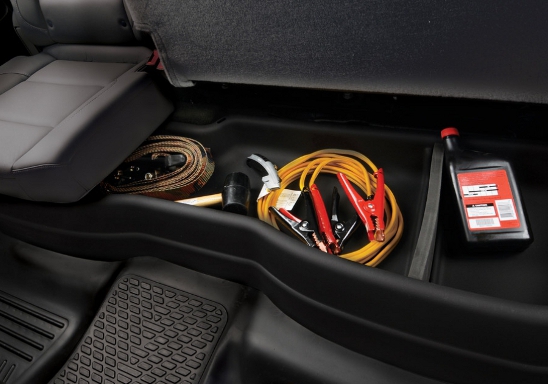 The Husky GearBox® is perfect for storing loose items, reducing clutter and keeping your vehicle looking clean and organized. This unique storage system is engineered to specifically fit under your vehicle's rear seats. Large capacity with removable dividers make it easy to store and organize both large and small items such as jumper cables, tools, car care supplies and whatever else you keep in your vehicle. The Husky GearBox® is manufactured using Co-Extruded materials consisting of a rigid durable substrate for strength and a soft impact resistant surface that minimizes cargo shifting and provides noise reduction. A black textured finish gives the GearBox® a factory look. Proudly engineered with a lifetime warranty against cracking or breaking.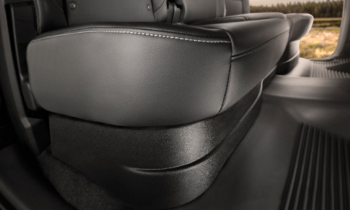 Under Seat Storage Allows You To Store Loose Items Under Or Behind Seats Keeping Your Vehicle Organized And Looking Clean


The Husky Gearbox® Is Engineered To Custom Fit Every Vehicle


A Truck Organizer With A Large Capacity With Removable Dividers


The Husky Gearbox® Is Made With A Rigid Durable Substrate And Soft Noise Reducing, Impact Resistant Surface To Help Minimize Cargo Shifting


Black Textured Finish For A Factory Look


1 to 3 Compartments (application dependant)


Limited Lifetime Warranty


Made in the U.S.A.


Image
Description
Price

Quantity




With Factory Subwoofer

Fits:
2009-2014 Ford F-150 - Super Crew (Cab)


Item ID: 9251

$157.95




Fits:
2009-2014 Ford F-150 - Super Cab (Extended)

Item ID: 9261

$157.95




Fits:
2015-2022 Ford F-150 - Super Cab (Extended)
2017-2022 Ford F-250/F-350 - Super Cab (Extended)


Item ID: 9291

$157.95




Fits:
2019-2021 Chevrolet Silverado 1500 - Crew Cab
2019-2021 GMC Sierra 1500 - Crew Cab
2020-2022 Chevrolet Silverado 2500/3500 - Crew Cab
2020-2022 GMC Sierra 2500/3500 - Crew Cab


Item ID: 09051

$169.95




Fits:
2019-2020 Chevrolet Silverado 1500 - Double Cab
2020-2021 Chevrolet Silverado 2500/3500 - Double Cab
2019-2020 GMC Sierra 1500 - Double Cab
2020-2021 GMC Sierra 2500/3500 - Double Cab


Item ID: 9061

$169.95




Fits:
2007-2013 Chevrolet Silverado 1500 - Crew Cab
2007-2014 Chevrolet Silverado 2500/3500 - Crew Cab
2007-2013 GMC Sierra 1500 - Crew Cab
2007-2014 GMC Sierra 2500/3500 - Crew Cab
(Excludes 2007 Classic)

Item ID: 9001

$179.95




Fits:
2007-2013 Chevrolet Silverado 1500 - Extended Cab
2007-2014 Chevrolet Silverado 2500/3500 - Extended Cab
2007-2013 GMC Sierra 1500 - Extended Cab
2007-2014 GMC Sierra 2500/3500 - Extended Cab
(Excludes 2007 Classic)

Item ID: 9011

$179.95




Fits:

1999-2006 Chevrolet Silverado 1500 - Extended Cab

2007 Chevrolet Silverado 1500 - Extended Cab (Classic)

2001-2006 Chevrolet Silverado 2500/3500 - Extended Cab

2007 Chevrolet Silverado 2500/3500 - Extended Cab (Classic)

Item ID: 9021

$179.95




Fits:
2014-2018 Chevrolet Silverado 1500 - Crew Cab
2015-2019 Chevrolet Silverado 2500/3500 - Crew Cab
2014-2018 GMC Sierra 1500 - Crew Cab
2015-2019 GMC Sierra 2500/3500 - Crew Cab
2019 Chevrolet Silverado 1500 - Crew Cab...

Item ID: 9031

$179.95




Fits:
2014-2018 Chevrolet Silverado 1500 - Double Cab
2015-2019 Chevrolet Silverado 2500/3500 - Double Cab
2019 Chevrolet Silverado 1500 - Double Cab (Legacy/Old Body Style)
2014-2018 GMC Sierra 1500 - Double Cab
2015-2019...

Item ID: 9041

$179.95




Without Factory Subwoofer

Fits:
2004-2008 Ford F-150 - Super Crew
2006-2009 Lincoln Mark LT - Super Crew
(Excludes 2004 Heritage Edition)


Item ID: 9201

$179.95




Fits:
1999-2016 Ford F-250/F-350/F-450 - Super Cab (Extended)


Item ID: 9211

$179.95




Without Factory Subwoofer

Fits:
2009-2014 Ford F-150 - Super Crew (Cab)


Item ID: 9241

$179.95




Fits:
2007-2013 Chevrolet Avalanche
2007-2013 Cadillac Escalade EXT

Item ID: 9271

$179.95




Fits:
2015-2022Ford F-150 - Super Crew (Cab)
2017-2022 Ford F-250/F-350 - Crew Cab


Item ID: 9281

$179.95




Without folding flat floor

Fits:
2002-2010 Dodge Ram 1500 Quad Cab
2011-2013 Ram 1500 Quad Cab
2003-2010 Dodge Ram 2500/3500 Quad Cab

Item ID: 9401

$179.95




With Factory Storage Box

Fits:
2019-2021 Ram 1500 - Crew Cab (New Body Style)


Item ID: 9411

$179.95




Without Factory Storage Box

Fits:
2019-2021 Ram 1500 - Crew Cab (New Body Style)


Item ID: 9421

$179.95




Fits:
2007-2013 Toyota Tundra - Access Cab (Extended)

Item ID: 9501

$179.95




Fits:
2014 - 2018 Toyota Tundra - Double Cab (Extended)

Item ID: 9511

$179.95
per page