You are here:

Trail FX Grille Guard - Black - E0011B
Trail FX Grille Guard - Black - E0011B
TRUCK FREIGHT ITEM


Fits:
2009-2010 Dodge Ram 1500
2011-2018 Ram 1500
2019 Ram 1500 (Legacy/Old Body Style)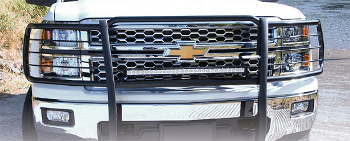 TrailFX Grille Guards are designed to protect your front end, and add a customized sporty look to your Truck or SUV. This grille guard has a one-piece design which allows for a quick and easy installation using existing mounting points on your vehicle. Two different finishes are available: stainless steel or gloss black powder coat. This grille guard is even designed with pre-drilled optional lighting mounts.
One Piece Design
Pre Drilled For Optional Lighting
Black Powder Coated Steel
Easy Install
Three Year Limited Warranty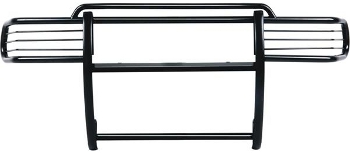 Finish: Powder Coated
Color: Black
Material: Steel
Tubing Diameter (IN): 1-1/2 Inch
Construction: One-Piece
Winch Mount: No
With Light Mounts: Holes Pre Drilled
With Lights: No
Receiver Hitch: No Hitch
With Skid Plate: No
Tow Hooks Option: No
Brush Guard Option: Yes
Step Plate Option: No

There have been no reviews


Only registered customers are allowed to add review. Please sign in and add your own review!
# Videos Start if ($product_info['video1url'] != "") # Videos End