You are here:

Auto Ventshade - Bugflector II - Tinted
Auto Ventshade - Bugflector II - Tinted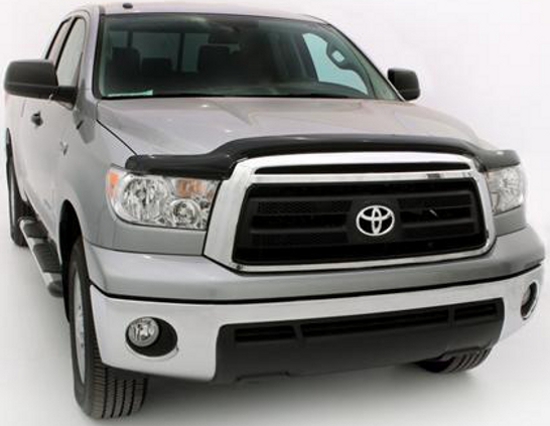 Keep your hood looking showroom new

The AVS Bugflector II™ is designed to protect and complement the contours of your vehicle's hood — keeping it looking showroom new. This custom-molded hood shield is made in the USA and precision-engineered to fit your vehicle perfectly. This hood shield's high-profile is aerodynamically efficient, and provides excellent protection as stones and other debris ricochet away from your hood, fender and windshield. The shield's durable impact-modified acrylic material makes this accessory wear-and-tear resistant as well as car-wash-safe.



Easy-to-install, no drilling or special hardware required

No-drill installation is quick and easy as the hood shield is mounted using double-sided 3M tape or mechanical fasteners (depending upon the vehicle). In order to protect the hood paint from rubbing, the set includes several rubber bumpers, which are applied to the hood during the installation. The AVS Bugflector II™ installs in 10 minutes or less and is virtually indestructible.



Wrap-around design


Provides maximum hood, fender, and windshield protection


Sleek aerodynamic appearance


High-profile


Virtually indestructible


Off-the-hood design allows for easy cleaning and waxing


Available in dark smoke or clear acrylic


Custom-molded, rugged, durable acrylic


Car wash safe


Easy no-drill installation (most applications)


Limited Lifetime Warranty


Image
Description
Price

Quantity




Fits:
2007-2012 GMC Acadia

Item ID: 320030

$44.99




This product required an oversize shipping fee - added at checkout

Fits:
2020-2022 Jeep Gladiator
2018-2022 Jeep Wrangler JL


Item ID: 24827

$64.99




This product required an oversize shipping fee - added at checkout

Fits:
2021-2022 Ford F-150


Item ID: 25621

$64.99




This product required an oversize shipping fee - added at checkout

Fits:
2015-2020 Ford F-150


Item ID: 25941

$64.99




This product required an oversize shipping fee - added at checkout

Fits:
2019-2021 Chevrolet Silverado 1500 (New Body Style)


Item ID: 25956

$64.99




This product required an oversize shipping fee - added at checkout

Fits:
2008-2012 Jeep Liberty

Item ID: 24001

$64.99




This product required an oversize shipping fee - added at checkout

Fits:
2006-2012 Toyota RAV4

Item ID: 24139-

$64.99




This product required an oversize shipping fee - added at checkout

Fits:
2004-2011 Ford Ranger

Item ID: 24321

$64.99




Excludes Edge Model
This product required an oversize shipping fee - added at checkout

Fits:
1998-2003 Ford Ranger
(Excludes Edge models)

Item ID: 24432

$64.99




This product required an oversize shipping fee - added at checkout

Fits:
2001-2004 Nissan Frontier

Item ID: 24445

$64.99




This product required an oversize shipping fee - added at checkout

Fits:
2004-2012 Chevrolet Colorado
2004-2012 GMC Canyon


Item ID: 24503

$64.99




This product required an oversize shipping fee - added at checkout

Fits:
2005-2015 Nissan Xterra

Item ID: 24557

$64.99




This product required an oversize shipping fee - added at checkout

Fits:
2001-2007 Dodge Grand Caravan
2001-2007 Dodge Caravan
2001-2007 Chrysler Town & Country

Item ID: 24607

$64.99




This product required an oversize shipping fee - added at checkout

Fits:
2005-2011 Toyota Tacoma

Item ID: 24645

$64.99




This product required an oversize shipping fee - added at checkout

Fits:
1994-2004 Chevrolet S-10
1995-2005 Chevrolet Blazer
1994-2004 GMC Sonoma
1995-2001 GMC Jimmy

Item ID: 24723

$64.99




This product required an oversize shipping fee - added at checkout

Fits:
2017-2022 Honda Ridgeline

Item ID: 24757

$64.99




This product required an oversize shipping fee - added at checkout

Fits:
2008-2012 Ford Escape


Item ID: 24818

$64.99




This product required an oversize shipping fee - added at checkout

Fits:
2007-2017 Jeep Patriot

Item ID: 24830

$64.99




This product required an oversize shipping fee - added at checkout

Fits:
2007-2017 Jeep Wrangler
2018 Jeep Wrangler JK

Item ID: 24901

$64.99




This product required an oversize shipping fee - added at checkout

Fits:
2007-2010 Chevrolet Silverado 2500/3500
(Excludes Classic)

Item ID: 25018

$64.99




This product required an oversize shipping fee - added at checkout

Fits:
2001-2004 Toyota Tacoma

Item ID: 25027

$64.99




This product required an oversize shipping fee - added at checkout

Fits:
2008-2010 Toyota Highlander

Item ID: 25032

$64.99




This product required an oversize shipping fee - added at checkout

Fits:
2004-2008 Ford F-150
(Excludes 2004 Heritage Edition)

Item ID: 25033

$64.99




Mounts in front of the Grille
1 Piece
This product required an oversize shipping fee - added at checkout

Fits:
1997-2004 Dodge Dakota


Item ID: 25034

$64.99




This product required an oversize shipping fee - added at checkout

Fits:
2007-2013 Chevrolet Silverado 1500
(Excludes Classic)

Item ID: 25035

$64.99
per page